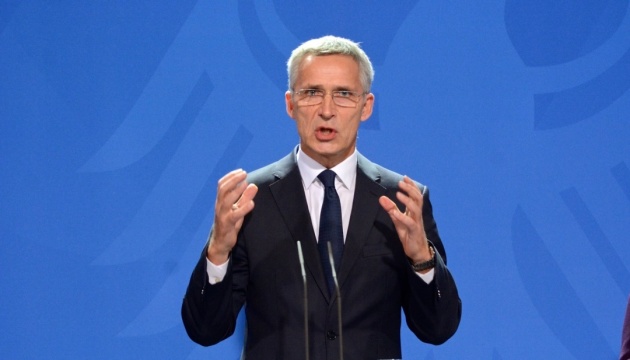 Stoltenberg: It's not for Russia to decide who should join NATO
Russia has no right to intervene in the sovereign decisions of democracies, in particular Ukraine and Georgia, on joining NATO.
"I've heard that question phrased in different ways many times – as if, in a way, the enlargement of NATO has been some kind of aggressive action against Russia; has justified Russia's use of force against other countries, like you mentioned, Donbas and Georgia and so on. I think we have to start with the basics. The basics is that all countries in Europe have signed the Helsinki Final Act - and also many other documents - which clearly states that all nations have the sovereign right of choosing their own path. It's so obvious that sovereign nations should have and must have the right to decide their own path, including what kind of security arrangements they want to be part of, or not want to be part of," NATO Secretary General Jens Stoltenberg said at the Sciences PO Youth & Leaders Summit, answering a question whether NATO enlargement fuels Russian aggression against neighbouring countries.
He recalled that gaining NATO membership was once a sovereign decision of Eastern European countries, including the three Baltic states which were once part of the USSR. At the same time, NATO has never forced anyone to join. These countries themselves chose the path of joining the Alliance through the democratic procedures.
"We will never force a country to join. So, when our good friends and neighbours, Finland or Sweden have, for decades, decided they don't want to be members of NATO, we totally respect that. But when countries like Latvia, Estonia, Lithuania, Poland and many others, Romania, decide that they want to be members, of course, if they meet the NATO standards, they should be allowed to be members," NATO Secretary General said.
He stressed that the issue of whether a country should join NATO or not should be decided only by the country and the Allies. Russia has no right to try to intervene or to block or to stop the membership of a sovereign nation into NATO.
"Georgia wants to become a member of NATO. And that's not for Russia to stop. Whether Georgia becomes a member of NATO or not is for Georgia and NATO Allies to decide, and only them… It's not for Russia to decide what Georgia is to do… And, therefore, what they [Russia] have done in Abkhazia, in South Ossetia, violating their territorial integrity, the sovereignty of Georgia, an independent country, is unacceptable. The same with Ukraine, of course, illegal annexation of Crimea, destabilising Donbas, eastern Ukraine. It's violating absolute fundamental principles in the way we should create a peaceful, stable world," Stoltenberg stressed.
He added that NATO's role is to provide support to Ukraine and Georgia in capacity-building and reforms.
"We have presence in different ways [of cooperation] in both Georgia and Ukraine. But, of course, we need to find political solutions. Different conflicts, Moldova, Nagorno Karabakh, different conflicts, but the main message is that we should respect the sovereignty. And, of course, we should also look for political solutions. And NATO supports the different efforts to find political negotiated solutions to the different conflicts, more or less frozen," NATO Secretary General said.
ol