EU Ambassador to Ukraine Matti Maasikas
If a nation has decided to become European in all the senses of the word – who on Earth has the right to deny them that?
02.01.2023 09:32
The war year of 2022 has become a turning point in many respects for both Ukraine and its partners. In this sense, the European Union has proven its ability not only to support Ukraine in a difficult moment, but also to pass decisions that, in the long run, will determine, as we hope, our common future.
At the Conference of Ambassadors, President Volodymyr Zelensky named among the priority tasks for Ukrainian diplomatic corps next year, in particular, the launch of negotiations on joining the EU, ensuring that defense needs are covered, and rebuilding Ukraine.
Our country, without a doubt, will continue to move towards its goal – achieving victory over Russia and building a European future.
How are Ukraine's efforts assessed in the European Union? What kind of military and humanitarian aid can Ukraine count on next year? When will Ukraine and the EU start accession negotiations?
Ukrinform asked these and other questions to Matti Maasikas, Head of the EU Delegation in Ukraine.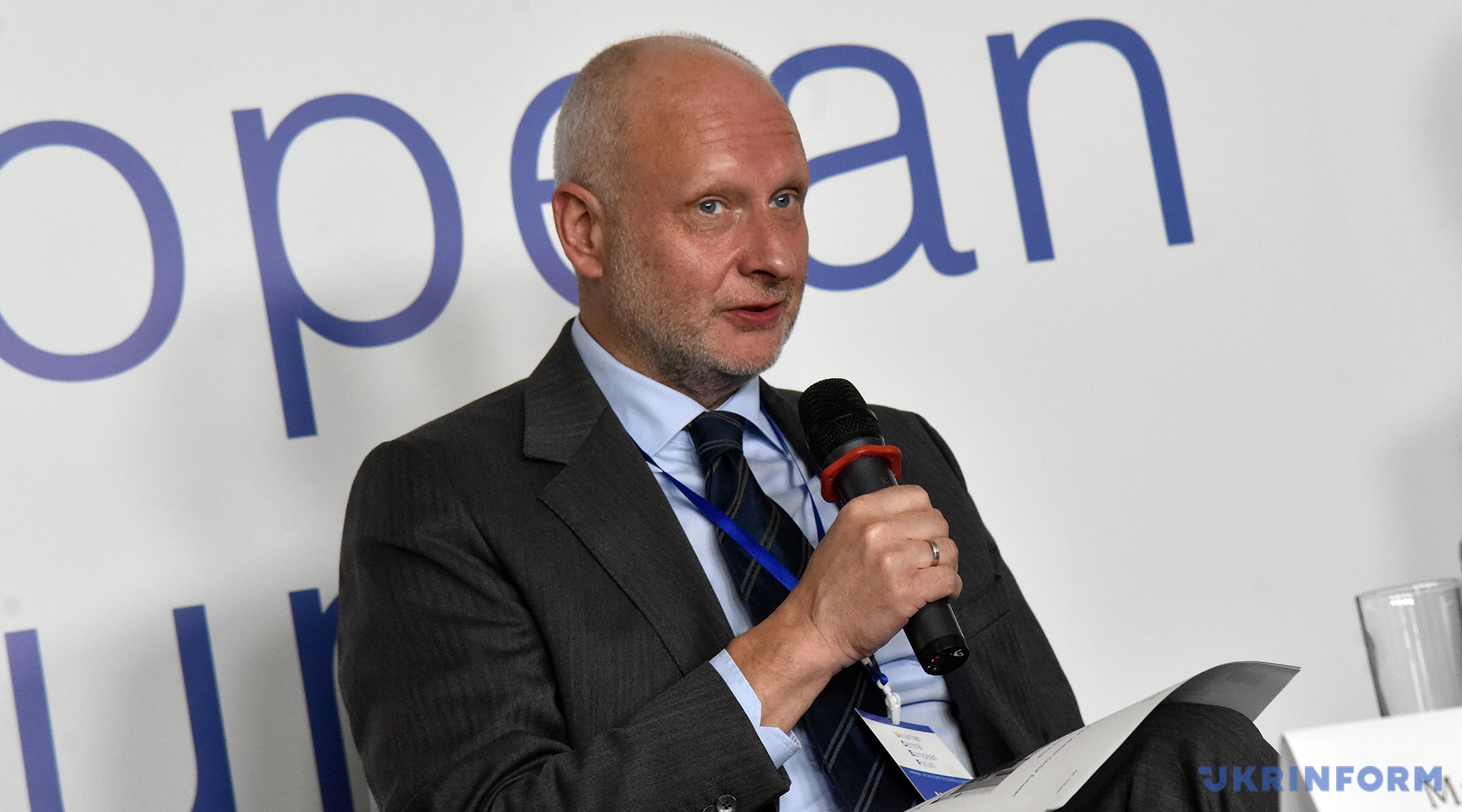 THE EU BECAME TRULY GEOPOLITICAL AND CHOSE UKRAINE'S SIDE
Mr. Ambassador, how did the war in Ukraine affect the European Union? Chief of European diplomacy Josep Borrel, in a speech before EU ambassadors in October said that Europe is entering a perfect storm, that the old world no longer exists, and that we must be ready for new challenges. How deeply does the EU realize this? Which of the challenges, in your opinion, should be responded to in the first place?
Russia's war against Ukraine has affected the EU in many ways. I have to highlight that our values and belief in freedom and democracy have translated in two very powerful courses of action – rock-solid solidarity with Ukraine and a strong unity within the EU and with our partners, most notably the United States and the G7 countries.
The EU has become truly geopolitical, which entails choosing sides – and the EU has chosen Ukraine´s side. No more "we call all parties…" kind of misleading – and mislead – talk.
The European Union sheltered and is still sheltering millions of Ukrainian citizens escaping from Russian missiles, bullets and occupation. They got much-needed protection under the EU's Temporary protection directive. Ukrainian refugees gained immediate access to the right to work, to get education and receive medical services. The directive will continue to be in place at least until March 2024.
Looking forward, I do not see any signs of our Member States weakening their support to those who are escaping Russia's full-scale invasion.
The EU has adopted nine sanction packages, which have been carefully designed to undermine Russia's ability to pay for war.
We have drastically reduced our energy dependence from Russia. Because one of the main sanctions the EU adopted was to stop 90% European oil supplies from Russia by the end of 2022, depriving Moscow of corresponding revenues.
Yes, Russia is able to sell its oil to other markets, however this benefit is limited by the fact that Russia is forced to give high discounts on each barrel (Russian oil is sold at around US$ 30 less than the global average). In addition, and this is perhaps the most important point, this gradual oil embargo and the scaling back of the import of gas, liberates Europe from its energy dependence on Russia.
The EU has taken bold steps when it comes to ensure that Ukraine has the needed financial resources to keep the country running to defend itself against the aggressor.
A few days ago, the EU adopted an unprecedented package of macro-financial assistance of 18 billion euros for 2023. This comes on top of 7.2 billion euros disbursed in 2022, and provides much-needed predictability to Ukraine´s state budget.
We have also provided a boost to bilateral trade: just before the war, we were celebrating that total EU-Ukraine trade had doubled since the entry into force of the Deep and Comprehensive Free Trade Agreement in 2017, but against all odds, the war has not stopped this trend, and Ukrainian exports to the EU continued increasing in value during 2022 when compared with 2021. This is partly due to the total trade liberalisation introduced by the EU in June, together with the suspension of trade defence measures on Ukrainian imports to the EU.
In order to further support Ukraine's exports, together with Member States we established the Solidarity Lanes initiative. While greatly facilitating overland logistics and providing a much-needed channel for Ukrainian products, the Solidarity Lanes is also a significant contribution to increase global food security and provide a lifeline for Ukraine's economy.
RUSSIAN ECONOMY IS SEVERELY AFFECTED BY SANCTIONS, WHICH IS LIMITING THE KREMLIN'S POLITICAL OPTIONS
How would you assess the effectiveness of EU's sanctions against Russia?
Our sanctions take and will take a heavy toll on the Russian economy and on the Kremlin.
Our measures already now apply to a total of 1,386 individuals and 171 entities in Russia and Belarus, as well as a significant number of sectors of the Russian economy. Among those sanctioned are top political representatives, oligarchs, military and propagandists.
These sanctions were adopted in close coordination with the G7 members, and the fact that over forty other countries, including traditionally neutral countries, have also adopted them or taken similar measures enhances their effectiveness.
Together we are sending a clear signal: we will not tolerate imposing the law of the jungle on a peaceful neighbour.
Sanctions are only one of the tools we are using, but it is clear that they taking a heavy toll on Russia.
The Russian economy is severely affected and is losing its ability to modernise and this is limiting the Kremlin's political and economic options. Sanctions harm the Russian economy, depriving it from access to financial markets and to advanced technology products, crippling the oil industry, the airlines, the military and automotive industries.
Russia's GDP is expected to drop by 11% and inflation to increase by 22% in 2022.
Russia also suffers from its inability to produce smart things. For all advanced technologies, it is 45 % dependent on Europe, 21% on the US, compared with only 11% on China. And the EU and US exports are closed.
Finally, we are sanctioning Russian disinformation actors. The state-owned and pro-Kremlin disinformation outlets are essential and instrumental in bringing forward and supporting Russia's aggression against Ukraine. They constitute a significant and direct threat to our public order and security. This is why the EU has decided to sanction the Kremlin's disinformation and information manipulation assets.
Overall, we suspended transmission and distribution of five major Russian broadcasters [Russia Today, Sputnik, Rossiya RTR/RTR Planeta, Rossiya 24/Russia 24, and TV Centre International] in or directed at the EU – such as via cable, satellite, IPTV, platforms, websites and apps. All relevant licences, authorisations and distribution arrangements are suspended. The advertising of products or services on sanctioned outlets has also been prohibited. Spreading disinformation must come at a price.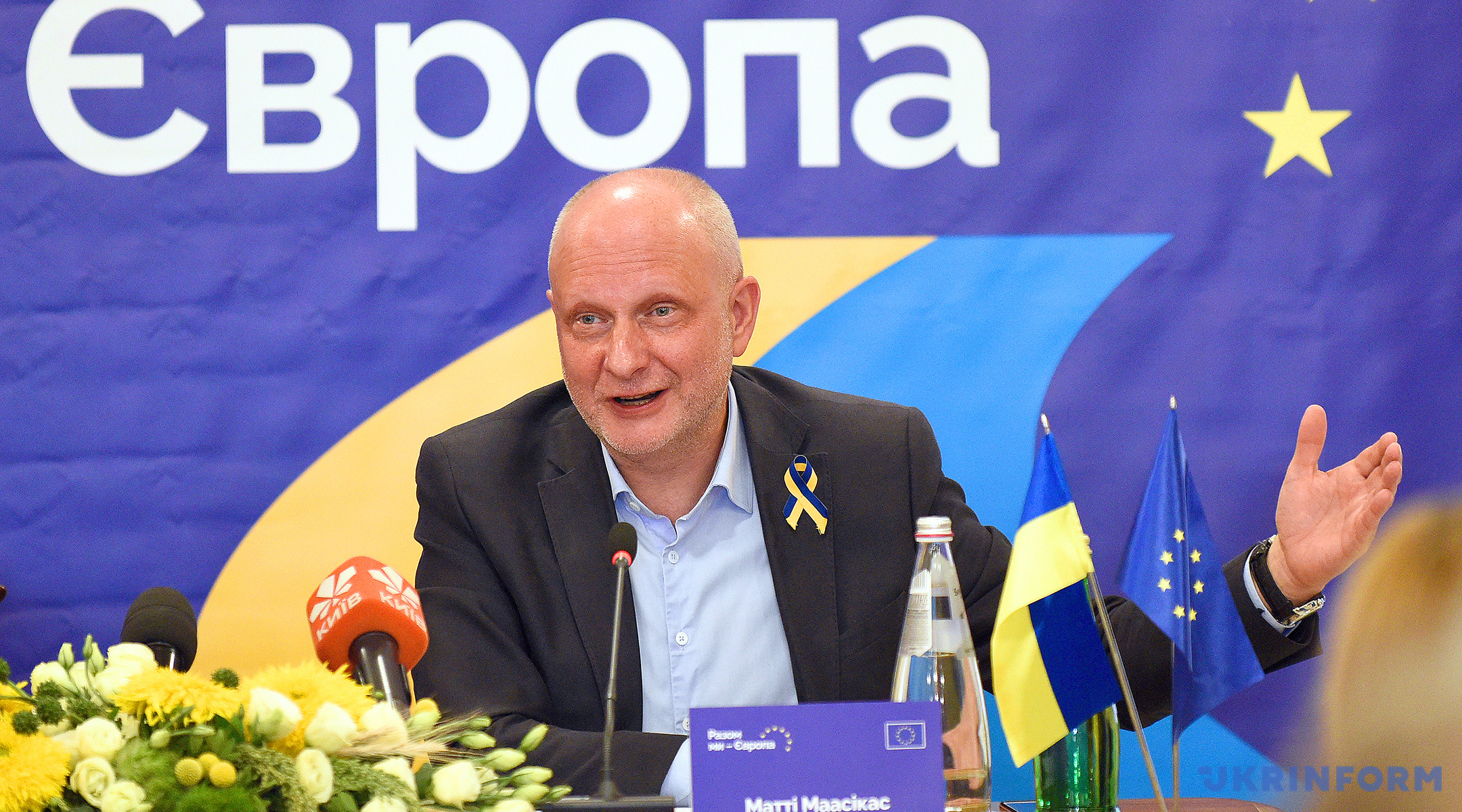 RUSSIAN ATTACKS ON CIVILIAN INFRASTRUCTURE AMOUNT TO WAR CRIMES FOR WHICH CAN BE NO IMPUNITY
The President of the European Commission and the EU High Representative recently stated that currently, the EU's main efforts in relations with Ukraine are focused on providing immediate assistance to Ukrainian citizens to live through this winter. What has been done so far, including on deliveries of generators and winter equipment, and what "bottlenecks" still exist in this regard?
Russia is trying to turn the cold winter into a weapon of war against the Ukrainian people. For this, Russia continues weaponising energy and deliberately targeting civilian infrastructure.
These cruel attacks aim at inflicting even more human suffering on the Ukrainian people, but also depriving hospitals, emergency services and other critical services of electricity, heating, and water. They amount to war crimes for which there can be no impunity. We will need to collectively work to bring all those responsible to account.
Last week, on 22 December, we marked the professional day honouring Ukrainian power engineers. Let me say that we at the EU join the whole of Ukrainian society in paying tribute to their tireless efforts, hard work and dedication in bringing light, warmth, - and thus hope - to every Ukrainian home. We are using our all available instruments and partnerships to help Ukraine get through this winter.
We support Ukraine in repairing damage inflicted by Russia on the energy infrastructure. Numerous energy equipment, from generators to transformers and cables, have been delivered via the EU Civil Protection Mechanism. Overall, European countries have mobilised more than 800 high-capacity power generators to Ukraine's national authorities via this mechanism.
Separately, many of the ongoing EU-funded projects have been mobilized or repurposed in order to purchase generators and other emergency equipment. The EU is also helping to repair the critical municipal infrastructure, such as heating, water and wastewater supply.
For instance, soon after the start of the full-scale invasion, the EU-led ULEAD with Europe programme, our flagship decentralisation support activity, handed over 2,500 generators to Ukraine municipalities.
Our EU4ResilientRegions programme, that we are co-financing with Germany, delivered a first batch of generators to Kherson within two weeks since its liberation.
In addition to generators, since February, we have allocated 485 million euros for humanitarian aid programmes to help Ukrainians affected by the war. Amongst others, this work includes rehabilitation and basic refurbishment of schools and shelters, temporary centres/reception centres, distribution of emergency shelter repair kits and winterisation relief items and cash for heating/energy needs.
Additionally, over 77,400 tonnes of in-kind assistance with an estimated value of almost 490 million euros has been delivered to Ukraine from EU Member States and partners via the EU Civil Protection Mechanism.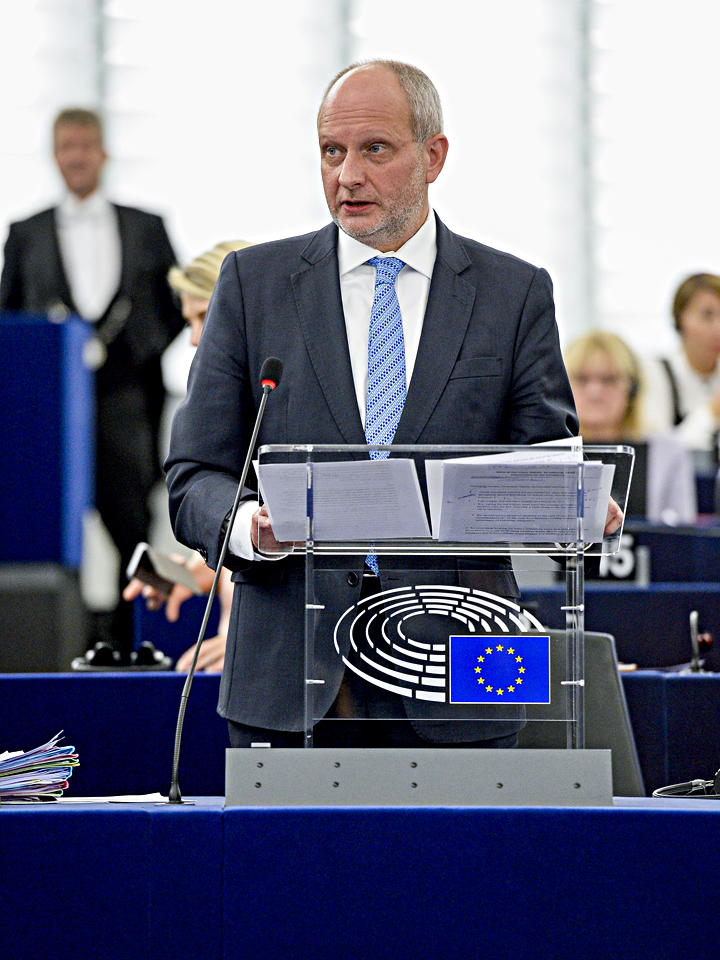 EU RESPECTS THE FACT THAT IT'S UKRAINIANS WHO ARE TO DEFINE CONDITIONS HOW THE WAR WILL END
The EU countries agreed to increase the European Peace Fund by an additional EUR 2 billion with the possibility of allocating another EUR 3.5 billion for the period until 2027. What share of this money could be disbursed for Ukraine? Does this mean that the EUR 3.1 billion that the EU allocated for the purchase of arms for Ukraine has already been utilized in full?
The European Peace Facility, established in 2021, is a 5.69 billion-euro fund designed to ensure a rapid EU response to the needs of military operations and to preserve peace, prevent conflict and strengthen international security. By now, the total allocation as part of the European Peace Facility for Ukraine reached 3.1 billion euros.
To receive military assistance, Ukraine appeals to Brussels and provides the European External Relations Service with a list of necessary weapons. EU Member States who have the necessary equipment can then provide it, and the European Union reimburses this country.
On top of that, each EU country provides military assistance on a bilateral basis. We see that happening every day.
Indeed, recently, the EU has indeed decided to increase the overall financial ceiling of the EPF by 2 billion euros in 2023, with the possibility of a further increase at a later stage.
In addition, the EU has decided to launch a military training mission for Ukraine – EUMAM will train up to 15,000 Ukrainian Armed Forces personnel over multiple locations in the territory of EU member states. The training has already started: HRVP Josep Borrell has recently visited soldiers being trained in Brzeg, Poland.
How do you personally see this war end?
To me, the key thing is not time – "when" – but what matters is the result – "how" this war ends.
It has to end with Ukraine´s victory – and the definition of victory has to be defined by Ukrainians.
We have all seen how Ukraine has managed to destroy a significant share of Russia´s resources during 2022 across Ukraine. We see how Ukrainians are united in their determination to defend their freedom and country.
In a poll conducted in late October by the Kyiv International Institute of Sociology, only 10% of Ukrainians would choose to make concessions to Russia in order to stop barbaric attacks on cities, with 86% in favour of continuing to pursue the victory on battlefield.
That is why Ukraine chooses to negotiate on the battlefield, until Russia is forced to withdraw its troops from Ukraine's sovereign territory. The EU respects and supports that it is up to the Ukrainians to define conditions how the war ends.
Allowing Russia to prevail would mean allowing it to destroy our democracies' foundations and the very basis of the international rules-based world order. Our job, therefore, is to continue supporting Ukraine militarily, to put you in the best position and help you win this war.
THE ONLY WAY TO ENSURE SAFETY AT ZNPP IS TO RETURN IT UNDER FULL CONTROL OF UKRAINE
Ukraine has repeatedly stated that the situation with Russia's seizure of the Zaporizhia NPP threatens a nuclear disaster to the whole of Europe. The EU has condemned Russia's military activities around the ZNPP and called on the aggressor to immediately hand over control of the plant to Ukraine. Don't you think that slamming sanctions on Rosatom would be a more effective tool of preventing a nuclear disaster than condemnation and appeals?
We condemn Russia's actions in and around the ZNPP, as well other Ukrainian nuclear facilities, as another example of Russia's blatant violation of international law and disregard of nuclear safety and security. This reckless nuclear gamble clearly demonstrates the irresponsibility and ruthlessness of the Russian aggression.
The only way to assure the long-term safety and security of the facility is for Russia to withdraw its troops from the ZNPP and return it to full and exclusive Ukrainian control.
We also underline our continued support to the IAEA'S efforts for a permanent safety mission on site as well as to create a nuclear safety and security around ZNPP.
We are encouraged by the agreement between Energoatom and the IAEA to have permanent IAEA experts on the sites of Ukraine's NPPs to monitor and objectively report on the situation.
With regards to sanctions, all decisions on imposing new sanctions are made by Member States with unanimity and discussions are confidential, but nothing is off the table.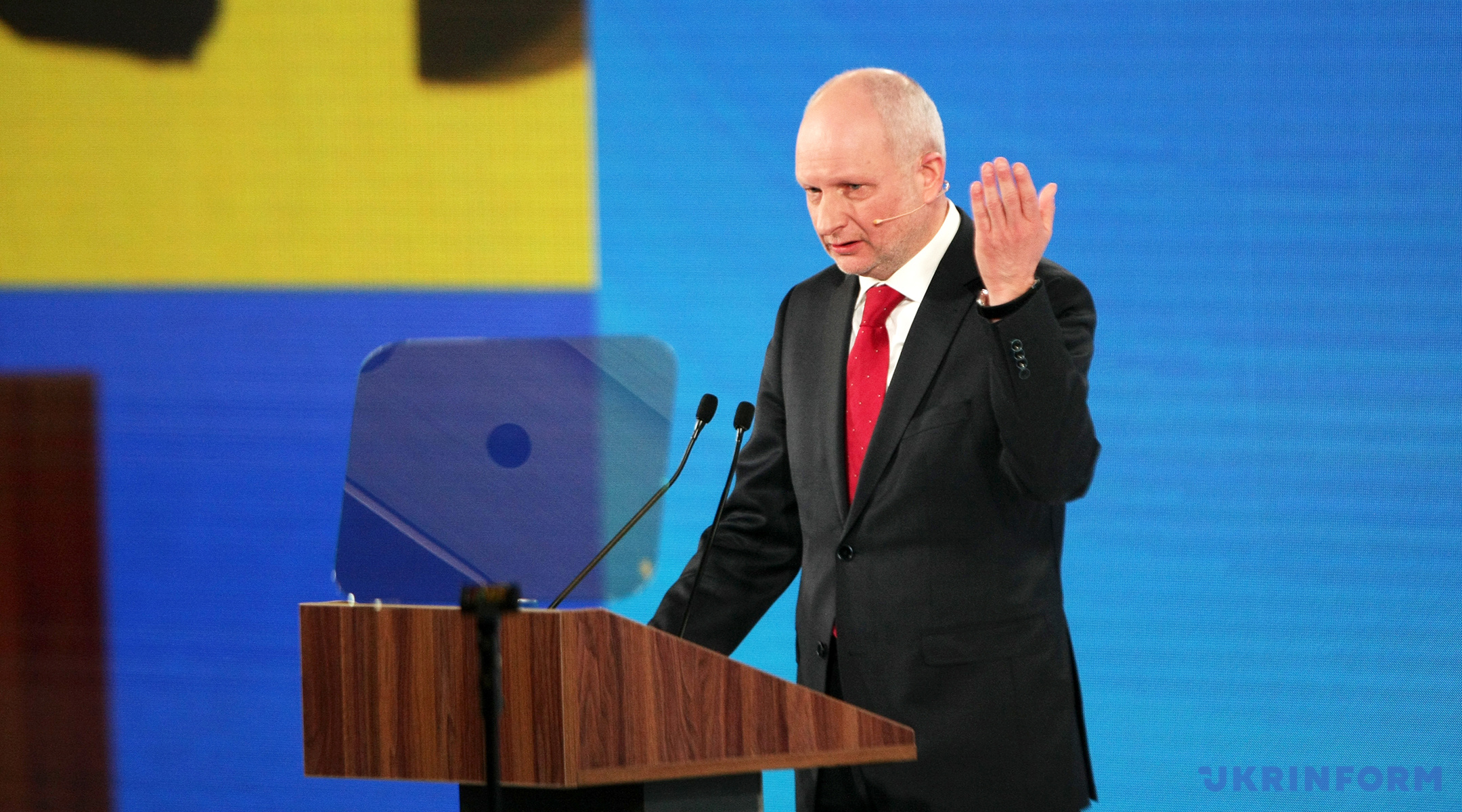 EU IS COMMITTED TO PLAY A MAJOR ROLE IN REBUILDING UKRAINE
What role does the EU see for itself in the implementation of the post-war reconstruction plan in Ukraine? Is there an understanding in the EU that it is necessary to restore Ukraine at least based on the fact that Ukraine should become a member of the Union?
Firstly, the EU is committed to play a major role in Ukraine's reconstruction. An integrated and coordinated international response is crucial for supporting reconstruction of Ukraine. In terms of milestones for the coordination of the reconstruction: the Berlin and Paris conferences were important as they focused on short term needs, and on mobilising much-needed aid to Ukraine for this winter.
We recognise the importance of G7 leaders' decision of 12 December to set up the Ukraine Reconstruction Platform. We are now looking forward for the launch of the coordination Platform together with Ukraine and all its international partners.
The European Commission has proposed to host the Secretariat of the Platform in order to support its work (e.g. prepare meetings, make proposals for matching needs and resources and develop the tools ensuring transparent reporting on the Platform's work and information sharing). The Secretariat would be an operational point of contact for all players.
Secondly, the strategic objective of both Ukraine and the EU is clear – EU Membership for your country. This objective should be at the core of the reconstruction.
We believe that granting Ukraine the EU candidate country status creates a positive impetus for reforms towards a strong investment environment – as it has happened in all pre-accession and freshly acceded states.
It will bring much needed infrastructure connectivity with the EU Member states and target better value chain integration with EU businesses. Investors will be investing in a future EU member state.
In addition to this, let me emphasize on a few key principles and directions for the reconstruction:
• First of all, the huge needs caused by Russia´s war of aggression will go well beyond the means available by public institutions. The EU and its partners will have to identify new financing sources, notably from the private sector.
• There is also a need to tap into the full power of Ukraine´s human capital and to accelerate its reform and green and digital transition. This together with the necessary judicial and anti-corruption reforms, would also facilitate private investment across the country.
• Another key aspect is Decentralisation: Ukraine should capitalize on the achievements of this reform (started after the Euromaidan revolution) also throughout reconstruction. As President von der Leyen put it in the reconstruction conference in Berlin, the Ukrainian regions and the municipalities are also economic powerhouses.
• The Civil Society in Ukraine should also have a pivotal role to play in the reconstruction of the country. This has been well reflected in the principles agreed in Lugano at the first International Conference on Ukraine's recovery- and we will stick to them.
• Last but not least, the social dimension of the reconstruction shall not be neglected: reconstruction will not be only about bricks and mortars. A clear focus on healing the Ukrainian society form the traumas of the war is indispensable!
THE EU WILL CONTINUE TO SUPPORT UKRAINE ON ITS PATH TOWARD FUTURE MEMBERSHIP
The Council of the EU recently included Ukraine in the annual review of EU enlargement and the association and stabilization process for candidate states. What can Ukraine expect from the EU in 2023? When can Ukraine expect to see a detailed analysis of the country's progress in reform, social development, and approximation to the Acquis communitaire of the European Union?
While Ukraine was already a member of the European family and has been steadily moving closer to the EU in political and economic terms since the Revolution of Dignity, the June 2022 decision granting candidate status for EU membership to Ukraine was a truly historic event.
Russia's war of aggression against Ukraine changed the geopolitical context. However, becoming a member of the European Union is not something that happens overnight, it is subject to a thorough process involving substantial work across all membership criteria.
The EU will continue to support Ukraine on its path towards future EU membership. The European Council just a couple of weeks ago [on 15th December] reconfirmed that the future of Ukraine, and of its citizens, lies within the European Union.
The pace of accession depends first and foremost on the progress on the fundamentals, starting with the rule of law.
But it's important to note that Ukraine has a big head start, through its implementation of the Association Agreement, which includes a Deep and Comprehensive Free Trade Area. This was already among the most ambitious agreements the EU has with any country, foreseeing political association and economic integration between the EU and Ukraine.
Ukraine has already approximated its legislation dynamically with a significant amount of EU legislation in many important spheres. The EU has been reporting annually on implementation of the Association Agreement since 2014 and the Commission will within a couple of weeks publish a detailed analytical report on the level of equivalence between Ukraine's laws and the acquis. This should offer some further guidance on the work we need to continue together.
The Commission's Opinion from June this year, endorsed by the EU leaders, identifies key (seven) reform areas where we expect to see continuing reforms as Ukraine continues to make progress on its EU path. The EU, and our Delegation in Kyiv, will continue monitoring Ukraine's progress in this regard.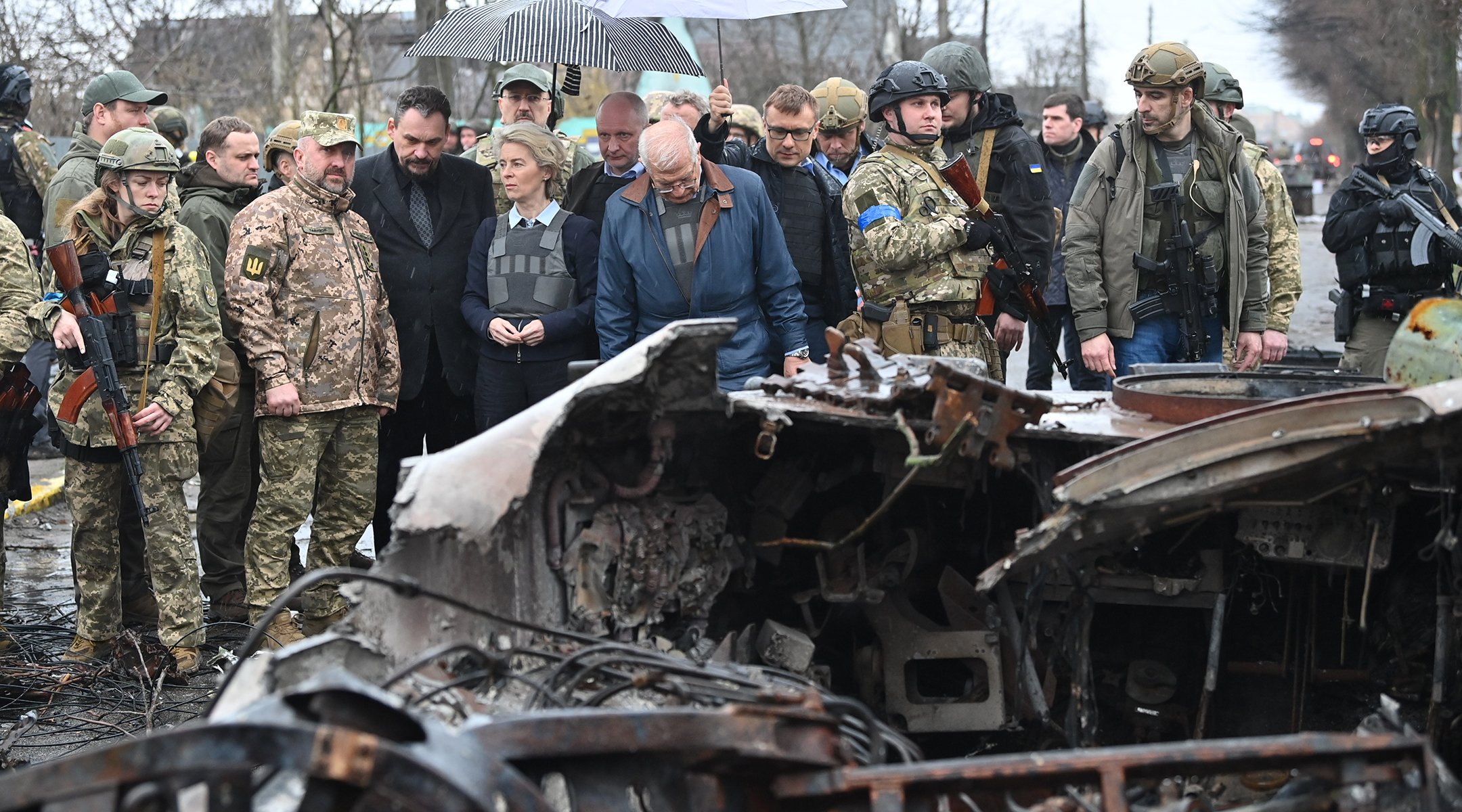 WE ARE NOT YET AT THE POINT WHERE WE DECIDE ON THE OPENING OF NEGOTIATIONS
In your opinion, when will both the EU and Ukraine be ready to launch negotiations on EU membership? Can this happen even before the Russian war in Ukraine ends?
Our leaders will discuss this at the next EU-Ukraine summit, early in 2023.
The EU's enlargement policy remains a geostrategic investment in Europe's security, prosperity and stability.
I can only repeat that through the historic June decision of the European Council, Ukraine was given the perspective to become member of the EU - on the understanding that reforms are continued. We are not yet at the point where we decide on the opening of negotiations but Ukraine's progress in the steps taken so far is steady and commendable.
According to recent polls by the Kyiv International Institute of Sociology, over 90% of Ukrainians support EU membership by 2030.
We believe that Ukraine wants to join the European Union because it sees it as the most important and reliable way to ensure their own peace, stability and long term prosperity. And, if a nation has decided to become European in all the senses of the word – who on Earth has the right to deny them that?
And to wrap this up, what are your fondest memories from 2022?
If you really insist to leave aside all the atrocities, then, for me, of course, the fondest memories in 2022 are related to Ukraine´s EU-integration: the dramatic circumstances of the signing of the application, the early visit of President von der Leyen with a response, the breath-taking and reassuring speed Ukraine´s authorities were able to answer to the questionnaire. And then the European Council decision to grant Ukraine the candidate status and bringing the EU flag to the Plenary Hall of the Verkhovna Rada. To stay.
Ukrinform
Photo credit: Ukrinform, EC - Audiovisual Service