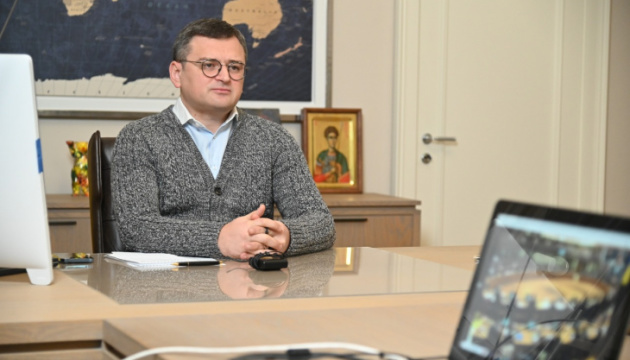 Kuleba foresees "diplomatic battle" over execution of ICC arrest warrant for Putin
Foreign Minister Dmytro Kuleba of Ukraine suggests that, after the International Criminal Court issued a warrant for the arrest of Russian President Vladimir Putin, a "huge behind-the-scenes diplomatic battle" will begin for the implementation of this warrant, involving all nations that have ratified the Rome Statute.
The head of Ukrainian diplomacy touched on the issue while speaking with journalist Vadym Karpiak on Instagram.
"Now a huge behind-the-scenes diplomatic battle will unfold for respect for the obligations under the Rome Statute... Here the question is not even about Putin or Ukraine – it's about the fact that, should anyone openly disrespect the order of the International Criminal Court, this will lead to the ICC collapse. Therefore, the ICC itself is now interested in seeing its orders respected. Accordingly, those countries that support the ICC will now be involved in this behind-the-scenes diplomatic battle to ensure that the warrant is executed," said Kuleba.
Commenting on the situation of South Africa, which ratified the Rome Statute and formally invited Putin to attend the BRICS summit, he noted that RSA will not abandon its political ally.
"But I don't think that South Africa will be able to openly and defiantly ignore the ICC warrant," the minister suggested.
Kuleba also explained what legal decisions Ukraine expects from the ICC and special tribunal.
"The International Criminal Court can try anyrthing except the crime of aggression. That is why we need a tribunal for the crime of aggression. That is, Putin should be tried for being behind the abduction of children, killing prisoners of war, destroying civilian infrastructure by artillery and missiles, and shooting and torturing civilians and military. It is necessary to try Putin for what is called the mother of all crimes, the crime of aggression," the minister emphasized.
As reported by Ukrinform, on March 17, the Pre-Trial Chamber of the ICC issued arrest warrants for Russian President Vladimir Putin and Commissioner for Children's Rights Maria Lvova-Belova.
The Russian leader and his representative are suspected of war crimes – deportation and illegal transfer of the population, including children, from the occupied territory of Ukraine.
The Russian president shall be detained under the ICC warrant in any of the 123 states that have ratified the Rome Statute.
The South African Minister of International Relations and Cooperation, Naledi Pandor, said the country's government would seek legal advice on how to deal with the ICC arrest warrant for Russian President Vladimir Putin should he attend the BRICS summit in August.