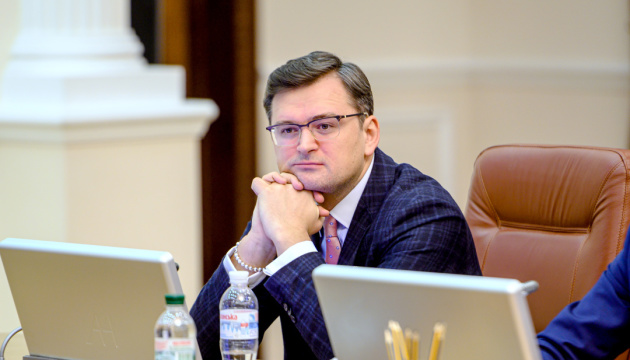 New sanctions against Russia expected next week - Kuleba
Minister for Foreign Affairs of Ukraine Dmytro Kuleba stated that a new package of sanctions could be imposed on Russia as early as next week.
The top diplomat shared the news during a live broadcast on Facebook, Ukrinform reports.
The Foreign Minister noted that he had been holding talks with his foreign counterparts for the past two days on supporting Ukraine's defense capabilities and sanctions.
"We can't stop now. New sanctions are required, and they will be out there soon, as early as next week. Now we want to push through exactly the things that, in Ukraine's opinion, are important," he said.
Kuleba has noted that he sent his colleagues, on whom the decision depends, a specific list of sanctions that Ukraine insists on.
In addition, the head of Ukrainian diplomacy noted such efforts as encouraging international companies to stop working in Russia.
"These companies include big producers like Nestle, Danone, and Unilever, or some very specific companies, for example, without which Russia will not be able to produce their missiles that are launched to hit targets. We work toward the whole spectrum of these companies, with everyone," said the Foreign Minister.
At the same time, according to Kuleba, some are offended by what they believe is excessive pressure exerted on them. In this regard, he stressed that it is not time to get offended, it's time to make a choice: "Are you on the side of good or are you on the side of evil? To be on the side of good is now to be with Ukraine and not to work in the Russian Federation, while to be on the side of evil means to feed their economy. "
As Ukrinform reported earlier, President Volodymyr Zelensky said on March 18 that a new, rather significant package of sanctions against Russia was already being discussed.
As reported, on February 24, Russian President Vladimir Putin launched a full-scale invasion of Ukraine. Russian troops have been shelling and destroying key infrastructure, massively attacking residential areas of Ukrainian cities and villages, using artillery, rockets, and ballistic missiles.
Martial law was imposed in Ukraine and general mobilization was announced.