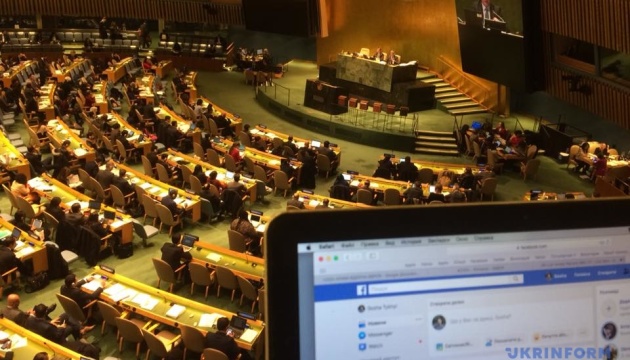 Zelensky forms Ukrainian delegation for participation in UNGA session
Ukrainian President Volodymyr Zelensky has signed an order forming a Ukrainian delegation for participation in the 76th session of the UN General Assembly in which he will take part on Monday, September 20.
The order, No. 546/2021-rp of September 18, has been published on the website of the head of state, according to Ukrinform.
Zelensky will leave for the United States on September 20 to participate in the UN General Assembly session.
The Ukrainian delegation includes Foreign Minister Dmytro Kuleba, Ukraine's Permanent Representative to the UN Sergiy Kyslytsya, First Deputy Foreign Minister Emine Dzheppar, Chairman of the Verkhovna Rada Committee on Foreign Policy and Interparliamentary Cooperation Oleksandr Merezhko, Deputy Head of the President's Office Andrii Sybiha, Chairman of the Mejlis of the Crimean Tatar people Refat Chubarov, Head of the Multilateral Cooperation Section at the President Office's Directorate for Foreign Policy and Strategic Partnership Khrystyna Haiovyshyna, Permanent Representative of the President of Ukraine to the Autonomous Republic of Crimea Anton Korynevych, Deputy Director of the Department for International Organizations at the Ukrainian Foreign Dina Martina, and Deputy Minister for Reintegration of Temporarily Occupied Territories of Ukraine for European Integration Ihor Yaremenko.
Earlier reports said that Zelensky would make a speech at the UN General Assembly. He will also have a series of bilateral meetings with the leaders of other countries, representatives of international organizations, including with the UN Secretary General, business representatives, investors, and the Ukrainian community in the United States.
op