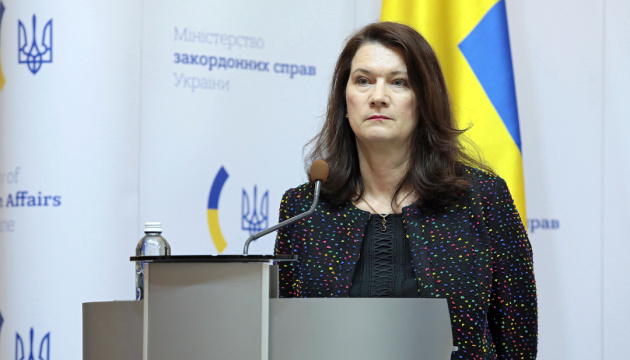 OSCE Chairperson-in-Office comments on Russia's move to remove observers from border checkpoints
The OSCE Chairperson-in-Office, Swedish Minister for Foreign Affairs Ann Linde, has expressed regret that, due to Moscow's stance, the mandate of the Observer Mission at the Russian checkpoints Gukovo and Donetsk on the Russian-Ukrainian border, was not extended.
The statement has been published on the OSCE website, Ukrinform reports.
"For the OSCE to fulfil its role as a platform for peace and stability, the Organization must make full use of all the tools at its disposal. I deeply regret that we could not reach a consensus on the extension of the Observer Mission mandate following the decision of the Russian Federation. For over seven years, the Mission has contributed to confidence-building and increased transparency on the Russian-Ukrainian border through its impartial monitoring and reporting," Chairperson-in-Office Linde said.
The Chairperson-in-Office also stressed the need for the full implementation of the Minsk agreements in their entirety and recalled that the Minsk Protocol of 2014 provides for permanent monitoring on the Ukrainian–Russian state border and verification by the OSCE, together with the creation of a security zone in the border regions of Ukraine and the Russian Federation.
As Ukrinform reported earlier, at an OSCE Permanent Council meeting on September 2, Russia announced the decision not to support a broad consensus on extending the mandate of the OSCE monitoring mission at two checkpoints on Russia-Ukraine border, Gukovo and Donetsk, beyond September 30.
MFA Ukraine has stated that the move testifies to Russia's plans to intensify supplies of arms, military equipment, Russian military and mercenaries to the occupied parts of Donetsk and Luhansk regions, which could lead to another escalation in the zone of the Russian-Ukrainian conflict.
Ukraine has called on Russia to immediately cease destructive actions and fulfill all obligations undertaken within the framework of the Minsk agreements.
im