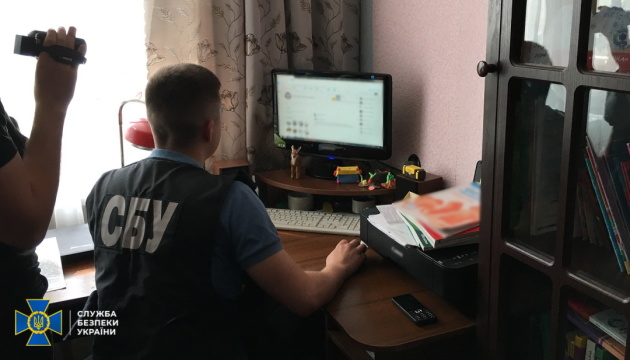 SBU busts Russian "trolls" calling for gov't ousting
Security Service (SBU) cyber operatives have exposed an extensive network of hostile agitators who had been spreading across social networks calls for altering the Ukrainian borders and seizing power in Ukraine.
This is stated in the SBU report, according to Ukrinform.
The network of agitators is believed to have been receiving from their Russian handlers "instructions" to carry out subversive operations in the media space.
During warranted searches in perpetrators' homes, law enforcers seized computer hardware and communication means holding evidence of unlawful activity.
In Zakarpattia region, an employee of the local branch of the State Emergency Service was exposed for spreading calls to violate the country's territorial integrity. He had been posting the relevant posts across social networks.
The linguistic examination launched by the SBU has confirmed the fact of unlawful activity.
The suspect was charged with the encroachment on the territorial integrity and inviolability of Ukraine (Part 1 Art. 110 of the Criminal Code).
Also, a resident of Kyiv's satellite own of Brovary is believed to have been using social networks to promote the ideas of an aggressive war.
Another asset of Russia's intelligence network was exposed in Odesa region where he campaigned for altering Ukraine's borders and ousting the government. He distributed his content through online platforms controlled by the leaders of illegal armed groups, the so-called "LPR/DPR."
An online agitator who distributed destructive content on the eve of the celebration of Baptism of Kyivan Rus'-Ukraine anniversary was nabbed in Lviv region. The content of his publications violated citizens' rights to equality and could provoke social and political destabilization in the region.
In Vinnytsia region, a local resident administered several anti-Ukrainian communities on one of the social networks. The agitator called for a violent seizure of power from the incumbent government, as well as for the breach of Ukraine's territorial integrity.
As reported earlier, the SBU has blocked a so-called bot farm operating in Russia's interests in the Ukrainian segment of social networks.
Photo: SBU
im