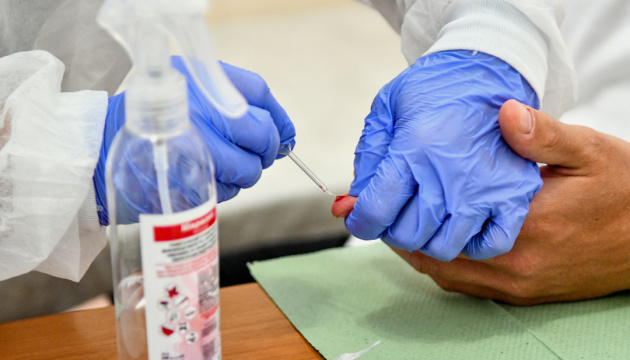 Ukraine tightening entry rules, mandating COVID test to be run at checkpoints
New border crossing rules will take effect in Ukraine this week: both Ukrainians and foreigners will be obliged to take a COVID-19 test when entering the country.
Chairman of the Verkhovna Rada Committee on Nation Health, Medical Care and Medical Insurance, MP with the ruling Servant of the People faction, Mykhailo Radutsky, shared the update on Facebook, according to Ukrinform.
"New border crossing rules will take effect this week. To minimize the risk of coronavirus mutations, Ukrainians and foreigners shall take a test when entering the country. Exceptions are applied to Ukrainian citizens who have received at least one COVID-19 jab, as well as and residents of other countries holding 'certificates.' For non-vaccinated (with vaccines approved by the WHO) travelers arriving from Russia and India, if they have been in the country for more than seven days, self-isolation is mandated," said the statement.
According to Radutsky, the new rules are more than loyal. For example, in Israel, where 60% of the population is vaccinated, from July 30 it is generally forbidden to travel to the "red zone" countries – Argentina, Brazil, South Africa, India, Russia, Mexico, Belarus, Uzbekistan, Spain, UK, Georgia, Cyprus, and Turkey. All passengers arriving in Israel are required to take the test. For refusing to take the test, a $1,200 fine is provided. Non-vaccinated passengers, even those with a negative test result, shall remain in self-isolation for a week before passing the second test. The country's authorities have also decided to reintroduce 'green passports' (Israeli vaccination certificates). Attending mass events, restaurants, fitness clubs, and synagogues without this document is prohibited.
"Ukraine will later be forced to introduce restrictions for non-vaccinated citizens. The Ministry of Health has already announced that, if the epidemiological situation deteriorates, schools allowed to operate will have to have at least 80% of teachers vaccinated (currently only half of the staff must be vaccinated)," Radutsky said.
According to the deputy, it is logical to introduce similar restrictions for transport carriers, catering establishments, commercial or utility companies whose employees are in direct contact with the population.
"A sick bus driver infects no fewer people than a teacher. We in Ukraine are not talking about compulsory vaccination, no one has the right to force anyone to get the jab. But it is fair to demand that jobs involving contact with a large number of people be performed by vaccinated employees," Radutsky stressed.
He noted that a month ago, there was a shortage of vaccines in Ukraine before the country received more than 4.5 million vaccine doses over the past two weeks. Vaccination is open to all, the official stressed, adding that companies are offered to apply for group vaccinations right at the office premises.
"Therefore, now everyone decides for themselves – leisure and full-time work or forced restrictions during the next coronavirus wave," said the Committee chair.
As Ukrinform reported earlier, over the past 24 hours, on August 1, a total of 38,080 people were vaccinated for COVID-19 in Ukraine.
im