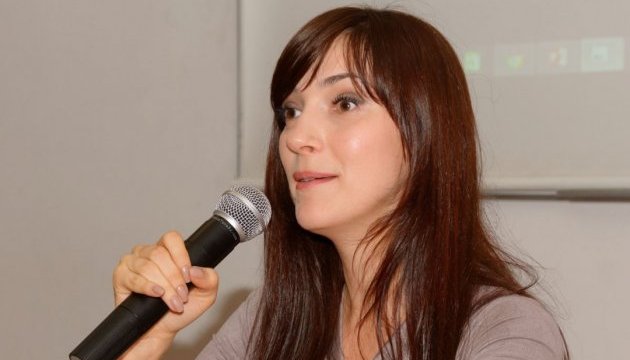 Paris court delivers verdict in case of Ukrainian journalist Anna Jaillard-Chesanovska
The Court of Appeal in Paris had today to judge an appeal filed by Anna Jaillard-Chesanovska, a Ukrainian journalist residing in France, against the recent decision of justice, dated last March, condemning her to pay EUR 13,000 for damages and the costs of proceedings, following a complaint filed by French journalist Paul Moreira for defamation.
The verdict of the Court of Appeal, which was delivered today (Wednesday, April 4), confirms the previous decision of the justice, while greatly reducing the amount of damages and interest required.
Contacted by Ukrinform, Anna Jaillard Chesanovska's lawyer, Frederic Gras, confirmed the verdict: "[The Court of Appeal] has reduced the amounts: EUR 2,000 worth of damages, EUR 3,000 under Article 475.1 of the Code of Criminal Procedure, i.e. the costs of proceedings, and EUR 2,000 'For the judicial communique," the lawyer said, adding that he now had to study the press release more closely and talk to his client.
Anna Jaillard-Chesanovska announced the possibility of appealing the decision at the Supreme Court.
"The next step is the Court of Cassation, and I am ready to go to the European court, because I see that France has obviously forgotten what freedom of expression means. I wrote the truth in my articles, and I am ready to fight to the end," the Ukrainian journalist said, highlighting the support of the diaspora in France and pro-Ukrainian circles.
"I would like to thank all those who supported me during these months: the Ukrainians from France and Ukraine as well as French friends, it is in their unconditional support that I drew my strength," she said.
The various court rulings in recent months were related to a complaint filed by French journalist Paul Moreira for defamation, the latter accusing Anna Jaillard-Chesanovska for having published several articles in which she criticized Moreira for having modified the translation texts she had done for him for his documentary "Ukraine: The Masks of the Revolution," broadcast in June 2016 on Canal+ and to which she had collaborated as an interpreter.
This documentary was heavily criticized by many Ukrainians in France as propagating a biased and pro-Russian point of view of the situation in Ukraine. Many French journalists and specialists from Ukraine had also expressed disagreements with parts of the documentary, including through an open letter co-signed in several major media in France.