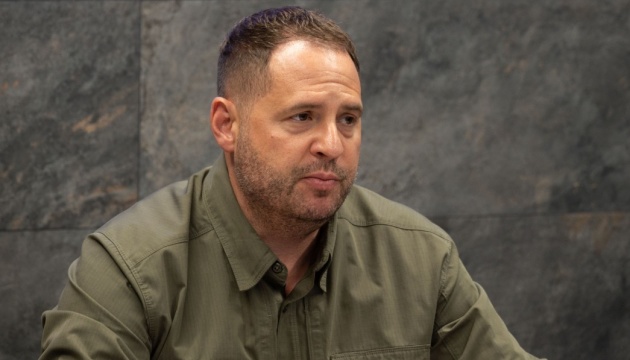 Zelensky's Office chief, EU sanctions coordinators talk strengthening Russia sanctions
The head of the President's Office Andriy Yermak presented five priorities for further strengthening of Russia sanctions.
The official reported this via Telegram, Ukrinform saw.
"I turned to sanctions coordinators from the EU and the entire sanctions coalition, including representatives from the USA, Canada, Japan, Australia, New Zealand, and others. We talked about strengthening Russia sanctions," he wrote.
Yermak noted that priorities for further work were highlighted during the meeting. According to him, first of all, it is necessary to address the issue of the Russian military-industrial complex, since Western components are still used in the production of Russian weapons. In particular, the production of missiles and drones is on the rise, which threatens the Ukrainian civil infrastructure and energy system more than last year.
"We must ensure that the Russian military-industrial complex no longer gets access to Western microelectronics. The same applies to mechanical engineering and sensitive technology. This requires expanding export controls, strengthening corporate compliance, unified lists of dual-use goods, and general synchronization of export policies," Yermak emphasized.
At the same time, in the field of energy sanctions, control must be improved over compliance with the price cap on Russian oil. Yermak emphasized that violations of price restrictions must be eliminated, as well as the operations of the Russian shadow tanker fleet.
"It is necessary to take further decisive steps for the general strengthening of energy sanctions. The possibility of banning Russian liquefied natural gas should also be considered," the head of the President's Office emphasized.
Yermak is also convinced that further financial restrictions are important. The introduction of additional sanctions against the Russian financial sector is as important as preventing sanctions evasion with the assistance of third countries.
A fourth priority is further action against Russian propagandists, who Yermak says should be clearly designated and deprived of access to their assets outside the Russian Federation.
"Moreover, they and their close relatives should not enjoy the benefits of a comfortable life and earn profits abroad. They should be banned from entering the civilized world," the official noted.
Yermak also emphasized that it is necessary to introduce the next package of sanctions as soon as possible.
"I welcome the determination of those who investigate attempts to circumvent sanctions. We should not hesitate to apply the tools of the 11th package against third countries, companies, and individuals who help the aggressor," the head of the President's Office wrote.
He emphasized that Ukraine appreciates efforts as regards sanctioning Russia: the McFaul-Yermak group is in touch with foreign governments, proposing concrete sanctions steps that are taken into account in the sanctions packages.
As Ukrinform reported earlier, Andriy Yermak held the eighth meeting with representatives of the diplomatic corps accredited in Ukraine regarding the implementation of Volodymyr Zelensky's Peace Formula.