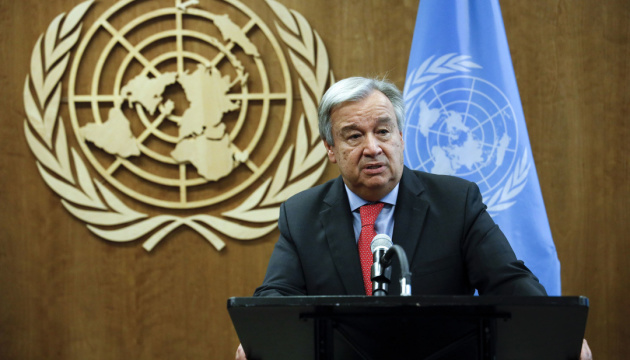 UN Secretary-General plans to discuss resumption of grain initiative with Zelensky, Erdogan, Lavrov
UN Secretary-General António Guterres plans to discuss Ukrainian grain exports and the resumption of the Black Sea Grain Initiative at meetings with Ukrainian President Volodymyr Zelensky, Turkish President Recep Tayyip Erdogan, and Russian Foreign Minister Sergey Lavrov.
According to Ukrinform's own correspondent in New York, Guterres said this on Wednesday, September 13, at a press conference, answering questions from journalists.
Guterres clarified that he would meet with each of the three individuals separately.
He assured that he remained determined to do everything possible to restore the Black Sea Initiative, Ukrainian food exports, and to continue working to facilitate the supply of Russian food and fertilizers under the sanctions regime.
The Secretary-General reiterated that these efforts are not being made to violate the sanctions regime but within the sanctions regime, so that deterrents do not arise that were not intended when they were introduced.
Speaking about the need to end the Russian war and achieve peace in Ukraine, Guterres emphasized that it is not just any peace but a peace that is in line with the UN Charter and international law.
As Ukrinform reported, earlier Guterres said that he disagreed with those who blame the United Nations for Russia's war against Ukraine.
According to him, it cannot be said that the UN failed in Ukraine. It was not the UN that invaded Ukraine. Member states must fulfill their responsibilities. The UN should not be used as a scapegoat for the failure of member states to comply with the Charter, Guterres emphasized.
The UN General Assembly High-level Week will be held in New York on September 19-25.