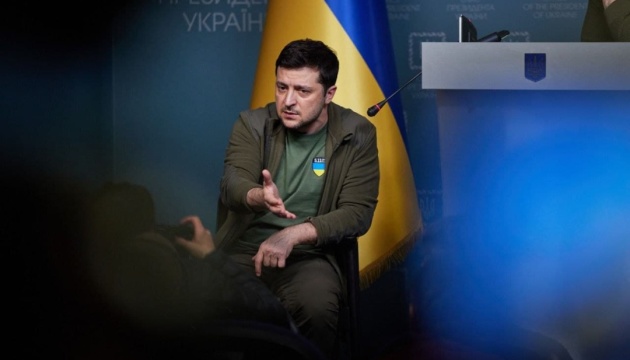 Zelensky says learned of U.S. intel leaks from media
Ukrainian President Volodymyr Zelensky has had no conversations with the White House about a massive leak of secret U.S. intelligence papers.
That's according to his interview with The Washington Post, Ukrinform reports.
He called the disclosures damaging to both Washington and Kyiv, the report says.
Asked if that had strained trust between the countries, Zelensky said, "I cannot risk our state." He indicated that airing his private feelings wasn't worth the potential harm to U.S. support for Ukraine's war effort.
"Where I can speak frankly, I do it. But there are high risks," he added. "If it were my war against [Russian President Vladimir] Putin, and there were two of us on the battlefield, I would tell everyone what I think of them. But here the story is a little different. We are all responsible."
The publication recalls that Zelensky was entangled in President Donald Trump's first impeachment scandal so it was not the first time that his life had been complicated by U.S. disclosures.
"I don't know if it's a manipulation or an accident, and so on, and why should I?" he said. "Despite such information movements, I have to prepare the state for de-occupation, not for other steps. And this is my task. Do you remember how our conversation with Trump got out? They printed it. Well, to be honest, I didn't give my permission for that either."
He said he considers the leaks a "TV show" that some people may be interested in but that ultimately aid Russia at a critical moment.
The report notes that among the purportedly leaked documents were those covering details of Kyiv's weakest spots in terms of air defense, as well as information on how the country's military brigades are preparing for a counteroffensive.
"Somewhere it's a hype, somewhere it's a scandal," Zelensky said. "For us, anything that informs our enemy in advance in one way or another is definitely a minus for us. I don't see any advantages here."
Zelensky declined to confirm or deny the information in the leaks — or even describe the disclosures as "sensitive" — because that would acknowledge that the documents are real, he said.
"It is not sensitive," Zelensky said. "If I answer you, that means it's sensitive, it means there are real documents. Please, stop playing games with me. I am the president of a country at war."
Secretary of State Antony Blinken discussed the Discord leaks with his Ukrainian counterpart, Dmytro Kuleba, during a call in April, according to a U.S. official familiar with the matter.
As reported earlier, the trove of what is believed to be top secret U.S. intelligence documents was leaked online, exposing Ukraine's counteroffensive plans.
On April 13, U.S. law enforcers detained Air National Guard's Jack Teixeira, who was charged with the illegal gathering, holding, and transferring classified information.
Photo: Verkhovna Rada of Ukraine