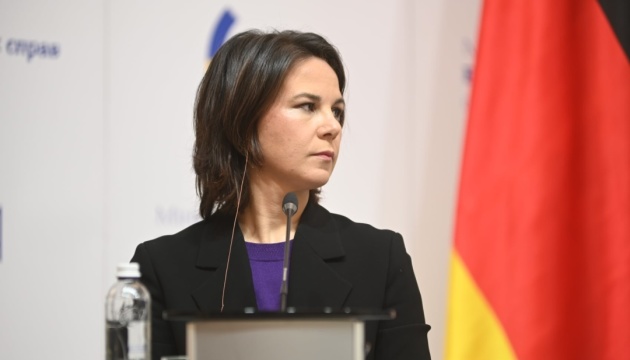 Baerbock on Putin: He doesn't want to talk, he wants to destroy Ukraine
German Foreign Minister Annalena Baerbock is convinced that Russian President Vladimir Putin has no interest in peace talks, and that everyone has already understood this.
The top diplomat said this in an interview with ARD, Ukrinform reports.
"He doesn't want to talk – he wants to destroy Ukraine... He's not ready to take his soldiers back, he's not ready to stop killing," Baerbock said, adding that every country that thought they could convince the Kremlin leader and sway him to peace, realized with disappointment that this is impossible.
According to the minister, "representatives of more than 140 countries repeatedly traveled to Moscow to make it clear to the Russian president that the war would harm the whole world," but their hopes that Putin would understand them never came true.
Evaluating China's "peace plan" regarding Russia's war against Ukraine, Baerbock recalled that it is not a plan, but a "positional" document, and that the actual peace plan had seen support from 140 countries in New York last week.
Commenting on reports of China allegedly supplying drones to Russia, the top diplomat said that, as a permanent member of the UN Security Council, China has a special responsibility for ensuring peace in the world, so if such reports are confirmed, "it will mean that China supports a country that pursues aggression and massively violates international law." The "proposals" put forward by Beijing emphasize the inviolability of the sovereignty of all countries, and therefore, Baerbock concludes, "you cannot supply drones to an aggressor, to a country, to a president who is waging a war of aggression that is against international law." The international community clearly states that such support for the aggressor is beyond the framework of international law, the minister said.
The head of the Foreign Ministry noted that the government of Germany, in turn, is doing everything possible to help Ukraine defend itself from the aggressor on the one hand, and on the other – to prevent the war from escalating to other countries. Regarding Kyiv's current request for the transfer of warplanes, Baerbock said that this topic is not being discussed by the federal government, but noted that "no one knows what will happen six months from now."
As reported, Germany is currently the second-largest provider of aid to Ukraine, including military assistance, after the United States.