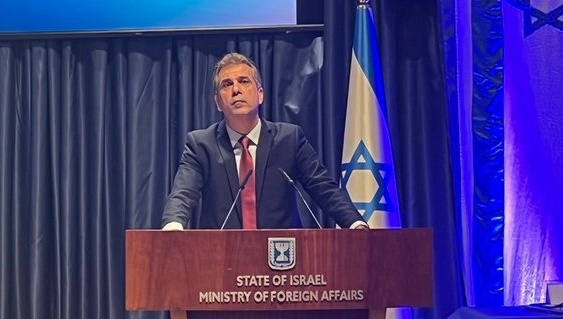 Israel provides maximum possible aid to Ukraine - Cohen
Israel condemns Russia's war of aggression and will help Ukraine, but it must not forget about the hundreds of thousands of Jews who live in the Russian Federation.
This was stated by the Minister of Foreign Affairs of Israel, Eli Cohen, who spoke at a press conference in Berlin after talks with his German counterpart, Annalena Baerbock, on Tuesday, an Ukrinform correspondent reports.
Israel "condemns" Russian aggression against Ukraine, Cohen said.
At the same time, he recalled that Israel is in a "unique position" because 600,000 Jews live in Russia, so in this respect, Israel differs from other countries. For the country, Russia is a "pivotal player in our region." With all this in mind, Israel is doing the best it can, he stressed.
Cohen recalled his recent visit to Kyiv, emphasizing that he became the first Israeli minister and the first head of foreign affairs of a Middle Eastern nation to visit Ukraine and express solidarity after the start of a full-scale war. He called this visit very emotional and one that clearly testified Tel Aviv's position: "Israel is on the side of Ukraine, on the side of the Ukrainian people, and it has been so since the first day of this war." Israel fully supports the territorial integrity and sovereignty of Ukraine.
Cohen recalled that he promised President Volodymyr Zelensky solidarity and backing, as well as support for his "Peace Program", which was confirmed during the vote on the UNGA resolution last week. Israel also announced its readiness to significantly increase humanitarian aid.
Moreover, he added that he had informed President Zelensky of Israel's readiness to hand over the early warning system.
In particular, he focused on the topic of Iran, which he says has become a problem not only for the region, but also for Europe and the world in general.
Iranian weapons are killing European civilians in Ukraine, he noted, so mow the Ukrainian people and the Israeli people face the same threat. It's time to act, Cohen emphasized.
He noted that there are two options on the table: expansion of sanctions, but also a "credible military option." Based on what the intelligence says, now is "the right time to work on these two steps," he added. Only joint decisive action can stop the regime, emphasized Cohen and called on Germany to recognize the Guardians of the Islamic Revolution as a terrorist organization.
The war in Ukraine brought new challenges to Europe, the diplomat said. Israel can be a reliable partner for Europe, both in terms of energy cooperation, but also high-tech defense systems.
As reported, the Minister of Foreign Affairs of Israel, Eli Cohen, said on February 16 during a joint press conference with his Ukrainian counterpart, Dmytro Kuleba, in Kyiv, that Israel would help Ukraine develop a system for early warning of the approach of missiles and drones.