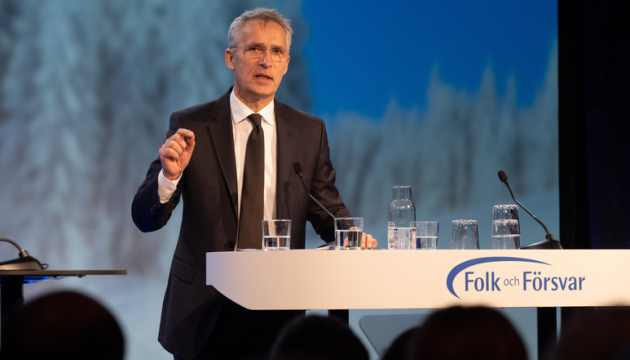 Ukraine to become NATO ally after it wins war - Stoltenberg
NATO is ready to see Ukraine in its ranks, but the condition is its victory in the war unleashed by the Russian Federation.
NATO Secretary General Jens Stoltenberg said this at a briefing on February 15, an Ukrinform correspondent reports.
"On Ukraine, NATO's position has not changed. We have reiterated it many times that Ukraine will become a member of the Alliance, but the focus now is to ensure that Ukraine wins the war," the Secretary General said.
To this end, he noted, the Alliance must help Ukraine protect its sovereignty.
The only way to ensure that Ukraine can move toward closer Euro-Atlantic cooperation "is to ensure that Ukraine prevails as a sovereign independent nation."
"So the main focus of the allies is to ensure that Ukraine gets the weapons, the ammunition, the supplies they need to push back the Russian invaders," said the NATO secretary-general.
Also, NATO is working on a longer-term partnership "to help Ukraine to move from Soviet-era weapons, doctrines, standards to NATO standards, to improve interoperability on security and defense," which will all move Ukraine closer to the Alliance.
The proof that support is efficient is Ukraine's "progress on the battlefield," stressed Stoltenberg. "And allies are of course constantly working with Ukrainian authorities to make sure that all the money, all the funding ends up where it should."
The secretary-general noted that the doors of the Alliance remain open, recalling that Montenegro and North Macedonia recently became NATO members despite Russia actively resisting their accession, while Sweden and Finland are really close to joining and already engaged in various processes, being more and more integrated into the NATO structures.
As reported earlier, the North Atlantic Council met in Brussels on February 15, involving NATO defense ministers. Finland and Sweden were also invited to participate.
Photo: EFE/EPA