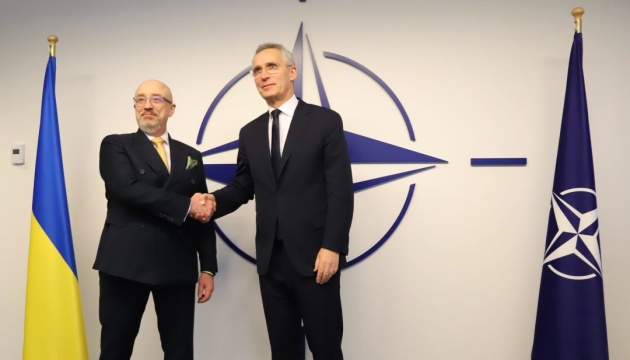 Reznikov, Stoltenberg meet and discuss cooperation
Defense Minister of Ukraine Oleksii Reznikov discussed the systemic cooperation between Ukraine and the Alliance with NATO Secretary General Jens Stoltenberg.
During the meeting, the minister, in particular, thanked Stoltenberg for his consistent stance on support for Ukraine. As Reznikov noted, Russia is now officially recognized as the most significant and direct threat to NATO member states.
"Ukrainian soldiers protect the whole of Europe on the battlefield today. The whole world admires them! Ukraine joined NATO de facto last year. I am doing everything possible to make it happen de jure once," Reznikov posted on Facebook.
As reported, today, February 14, the Ukraine Defense Contact Group meeting was held in Brussels. The main issues on the agenda: protection of the Ukrainian sky, including through the involvement of aviation platform; development of tank coalition; formation of ammunition stockpile; training programs for Ukrainian soldiers; stable support: logistics, maintenance, repair, practical implementation of "military Schengen".
Following the meeting results, Mark Milley, Chairman of the Joint Chiefs of Staff of the United States noted that the partners in Ramstein format managed to accumulate a lot of aid for Ukraine.
Photo: Facebook/ Oleksii Reznikov