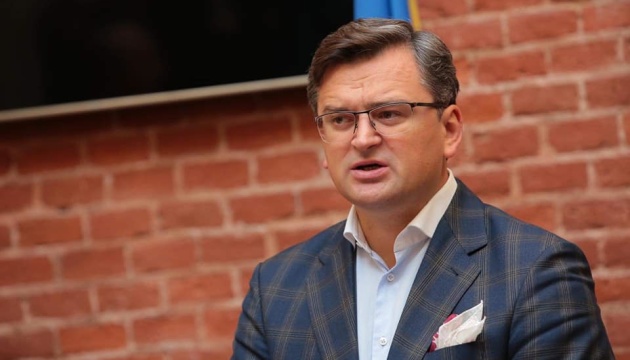 Kuleba on unblocking of seaports: We will not agree to any solution that could leave Russia any chance to attack
Ukraine will not agree to any decision regarding the unblocking of Ukrainian seaports, which would leave any loophole for Russia to go for a frontal attack.
This was stated by the Minister of Foreign Affairs of Ukraine, Dmytro Kuleba, who spoke with Forbes, Ukrinform reports.
"We will not agree to any decision that would leave any loophole for the possibility of a frontal attack on Ukrainian ports from the sea by the Russian Federation," the minister said.
Kuleba said that at the meeting in Istanbul, expert-level delegations sat down and discussed a number of security issues that are within the competence of the military and logisticians, and now the issues related to logistics and security are yet to be settled.
"Yesterday, delegations and negotiating teams largely resolved these issues. Now all of this must be put on paper," he said.
According to the head of the Ministry of Foreign Affairs, there is one argument why Russian President Vladimir Putin should agree to the unblocking of sea routes: the desire to show countries that stick to neutrality or are more inclined to the Russian position on war (nations in Africa and Asia) that he saved them from starvation, from rising food prices.
"As regards everything else, I don't understand why he might need this. By agreeing to unblock Ukrainian ports, he is undermining his own efforts to stifle the Ukrainian economy. I think that he now has on the one side of the scale Russia's reputation before the countries of Asia and Africa, while the reluctance to let Ukraine earn a penny is on the other," Kuleba explained.
As reported, as a result of unprovoked Russian aggression in Ukraine, more than 20 million tonnes of grain intended for export, in particular within the framework of the UN World Food Program, have been stuck in Ukrainian storages. This put the world's most vulnerable nations, particularly in Africa, at risk of famine.
The EU has set up a "solidarity corridor" on the borders with Ukraine for the transportation of grain by land, using road and rail transports, as well as by internal waterways, but the effort addresses the issue only partially. In Turkey, negotiations are being held with the UN participation to seek ways to resolve the stalemate.
Photo: Ukrainian President's Office