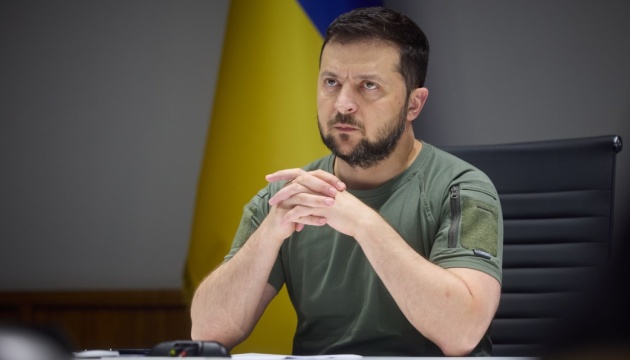 Those whose decisions led to crimes against Ukrainians must not hide behind 'immunity of officials' – Zelensky
Ukrainian President Volodymyr Zelensky insists that a Special Tribunal be established to bring to justice those whose decisions led to the crimes committed by Russian occupiers in Ukraine but who are hiding behind the so-called immunity of officials.
The relevant statement was made by Ukrainian President Volodymyr Zelensky at the International Conference in The Hague, an Ukrinform correspondent reports.
"Our efforts will be enough to record the crimes of the Russian occupiers; to gather all the evidence so that it is absolutely admissible in the courts; to establish each of the guilty. However, those people whose decisions led to this array of crimes must not hide behind the so-called immunity of officials. The principle of inevitability of punishment must also apply to these people. And this can only be ensured by the Special Tribunal on Aggression against Ukraine," Zelensky said.
In his words, since Russia started a full-scale invasion of Ukraine on February 24, 2022, Ukrainian law enforcement agencies have registered 34,039 crimes related to Russian aggression. Zelensky urged the audience to imagine how many crimes Russian occupiers had committed since 2014.
According to the President of Ukraine, Ukrainian justice will do the part of the work that the national jurisdiction allows. Zelensky expressed hope that the International Criminal Court will inevitably ensure the liability of those guilty of crimes under its jurisdiction: war crimes, crimes against humanity, the crime of genocide.
However, Zelensky emphasized that the existing judicial institutions for jurisdictional reasons cannot bring to justice all those guilty of the primary crime of aggression.
"That is why we need a Special Tribunal regarding this crime – Russian aggression against Ukraine. A Tribunal that will ensure the fair and lawful punishment of those who started this history of disasters and tragedies, which has become the biggest war in Europe since World War II," the President of Ukraine explained.
According to Zelensky, justice must always do its job, and the task of all politicians is to give justice the necessary tools.
The power of the law and its supremacy are ensured only when there are effective and stable institutions capable of implementing the law in any conditions, Zelensky added.
"We know what institutions we need. We can create them. And they will definitely work. And this will be a contribution to the protection of the world order, the world legal order, which can be compared only to the Nuremberg trials. This is our joint task," the President of Ukraine stressed.
A reminder that, on July 14, 2022, the International Conference on holding Russia accountable for crimes in Ukraine is taking place in The Hague.
Photo: president.gov.ua
mk