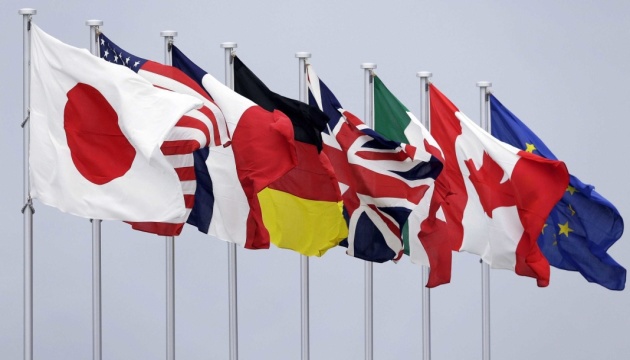 G7 committed to supporting Ukraine until its victory and recovery
The G7 leaders issued a joint statement pledging to continue providing security, economic, and humanitarian support to Ukraine, increase pressure on Russia, and unite to gain the victory of freedom in Europe and around the world.
The text of the document was published on the official website of the White House on Sunday, Ukrinform reports.
"Through its invasion of and actions in Ukraine since 2014, Russia has violated the international rules-based order, particularly the UN Charter, conceived after the Second World War to spare successive generations from the scourge of war," reads the G7 leaders' statement.
It is noted that President of Ukraine Volodymyr Zelensky also joined the talks.
The G7 leaders assured him of their "full solidarity and support for Ukraine's courageous defence of its sovereignty and territorial integrity, and its fight for a peaceful, prosperous and democratic future within its internationally recognised borders."
In turn, President Zelensky stated that Ukraine's ultimate aim is to ensure full withdrawal of Russia's military forces and equipment from the entire territory of Ukraine and to secure its ability to protect itself in the future and thanked G7 members for their support, the document notes. Moreover, Zelensky emphasised that Ukraine relies on its international partners in providing necessary assistance.
"Ukraine has entered into discussions with international partners on security mechanisms for a viable post-war peace settlement. Ukraine remains committed to working closely with G7 members to support Ukraine's macroeconomic stability in the face of the challenges posed by the full-scaled Russian invasion, massive destruction of critical infrastructure and disruption of traditional shipping routes for Ukrainian exports," reads the statement.
The G7 leaders reassured President Zelensky of their "continued readiness to undertake further commitments to help Ukraine secure its free and democratic future, such that Ukraine can defend itself now and deter future acts of aggression."
To this end, the international partners promised to pursue their ongoing military and defence assistance to the Ukrainian Armed Forces, continue supporting Ukraine in defending its networks against cyber incidents and expand cooperation on information security. "We will continue to support Ukraine in increasing its economic and energy security," the document underscores.
In the coming weeks, the G7 leaders pledged step up their collective short-term financial support to help Ukraine close financing gaps and deliver basic services to its people, while also developing options to support long-term recovery and reconstruction. "We call on all partners to join our support for the Ukrainian people and for refugees, and to help Ukraine to rebuild its future," the statement emphasizes.
The G7 leaders also state that they will spare no effort to hold President Putin and the architects and accomplices of this aggression, including the Lukashenko regime in Belarus, accountable for their actions in accordance with international law. G7 condemns Russia's attempts to replace democratically elected Ukrainian local authorities with illegitimate ones. "We will not recognise these acts in violation of Ukraine's sovereignty and territorial integrity," the document underlines.
"We will continue to counter the Russian strategy of disinformation, which deliberately manipulates the global – including the Russian – public in the hope of shrouding the Russian regime's culpability for this war," the statement says.
In addition, G7 leaders pledge to continue to impose severe and immediate economic costs on President Putin's regime; phase out dependency on Russian energy; prohibit or otherwise prevent the provision of key services on which Russia depends; take action against Russian banks connected to the global economy; elevate campaign against the financial elites and family members.
G7 leaders highlight the threat to global food security posed by Putin's war.
"Together with the United Nations, we call on Russia to end its blockade and all other activities that further impede Ukrainian food production and exports, in line with its international commitments," reads the statement.
The G7 leaders underscore that they stand united with Ukraine in this difficult time.
"We remain united in our resolve that President Putin must not win his war against Ukraine. We owe it to the memory of all those who fought for freedom in the Second World War, to continue fighting for it today, for the people of Ukraine, Europe and the global community," the G7 leaders state.
ol