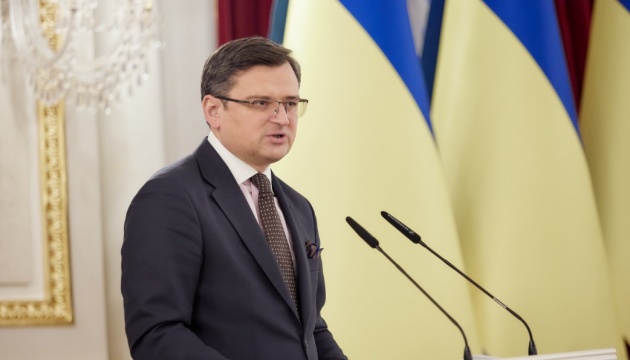 MFA works towards imposing major sectoral sanctions, cutting Russia off from SWIFT
Kyiv currently works towards imposing the following sanctions against Russia: a ban on gas, oil, and coal purchases, closure of world ports to Russian ships, and cutting all Russian banks off from SWIFT.
Minister of Foreign Affairs of Ukraine Dmytro Kuleba said this on the air of the nationwide telethon on April 2, an Ukrinform correspondent reported.
The minister noted that Ukraine insisted that the imposition of sanctions must not stop, working towards not only personal sanctions but also large sectoral measures that would hit hard on Russia's economy.
"And, of course, the queen of all sanctions is a ban on gas, oil, and coal purchases from the Russian Federation. That would mark the end of the Russian military machine. This is the most difficult sanction, but we are working to achieve it," the minister said.
Kuleba stressed that the decisions made by such countries as Poland, the Baltic states, the United States and the United Kingdom helped.
"At the same time, until this decision is made by such countries as Germany and Italy, the Russian military machine will be fed by the money they will pay for gas and oil," he said.
In addition, the minister informed that Kyiv was working towards the imposition of such sanctions as the closure of world ports, primarily European and American ones, to Russian ships and goods and cutting all Russian banks off from SWIFT system.
"This is the sacred trinity of sanctions, which we are actively working on every day," Ukraine's top diplomat concluded.
Kuleba also thanked the G7 countries for refusing to pay for gas in rubles and added that the countries would gradually join the embargo on the purchase of Russian energy.
"Germany has the most difficult situation due to its huge dependence on Russian energy, but the government of this country already takes measures to reduce this dependence and give up Russian energy," the minister said.
As reported, on April 1, Kazakhstan assured that it would adhere to sanctions against Russia and Belarus and would not act as a tool to circumvent U.S. and European sanctions against Russia.
ol