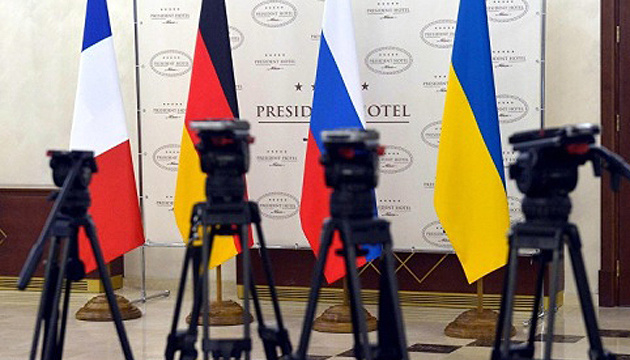 No breakthrough to be expected at Normandy Four, Ukraine official says
Today's meeting of advisors to the leaders of the Normandy Four (Ukraine, Germany, France, and Russia) is unlikely to yield "revolutionary" results.
That's according to Serhiy Harmash, a Ukrainian journalist whom the Ukrainian government appointed to represent certain areas of Donetsk region as part of the Ukrainian delegation to the Trilateral Contact Group (TCG) for Donbas settlement, Ukrinform reports citing his interview with Dom TV.
The official noted that, no matter how much Russia blocks the talks, the very fact that the Normandy format exists is generally beneficial to them. Also, he believes Russia agreed to meet in Paris, most likely at the request of Germany and France.
Harmash pointed to a "strange coincidence" as just ahead of the meeting, the Cabinet of Ministers of Ukraine withdrew its bill on "transition period" policy.
"I believe that nothing revolutionary will happen ... I expect no significant actions and decisions to be taken at tomorrow's meeting. I think it will be more diplomatic on Russia's part, especially since Russia has already gained the withdrawal of the bill, which has been repeatedly criticized by (Russian President Vladimir - ed.) Putin personally," he explained.
In this regard, Harmash does not believe the meeting of advisers would unblock the process of preparation for the Normandy Four leaders' summit.
"I don't believe such a meeting is possible because Putin wouldn't benefit from this summit. That's unless he receives some guarantees of a positive decision to be passed there. But that would mean Ukraine would have to go for some concessions as I don't see any common interests for Russia and Ukraine so far, especially with regard to the Minsk process," the Ukrainian delegate to the TCG elaborated.
Harmash stressed that the main problem is not even that the text of the Minsk accords does not refer to the sequence of implementation of their clauses.
"It's that we don't have the 'other party' to the conflict with whom we would discuss this sequence. Russia does not recognize itself as a party to the conflict. Texts aren't really that important if there's political will. We are now seeing escalation in Donbas. There is no mechanism for responding to ceasefire violations. (Representatives of the – ed.) occupied areas of Donetsk and Luhansk regions constantly offers such a mechanism in the shape of direct consultations with them, some joint inspections. But we do remember that in July 2020 an agreement was reached on this truce, which lasted about six months. And it did work, even in the absence of the mechanism, on which they are now insisting. But then there was political will on the part of Russia as they had their interest in such a truce," he said.
Had Russia shown political will today, "there would've also been de-escalation, but there is probably no such political will."
"So the texts of the accords don't matter, in fact," Harmash concluded.
As Ukrinform reported earlier, a meeting of political advisers to the leaders of the Normandy Four has been scheduled to be held in Paris on January 26.
im