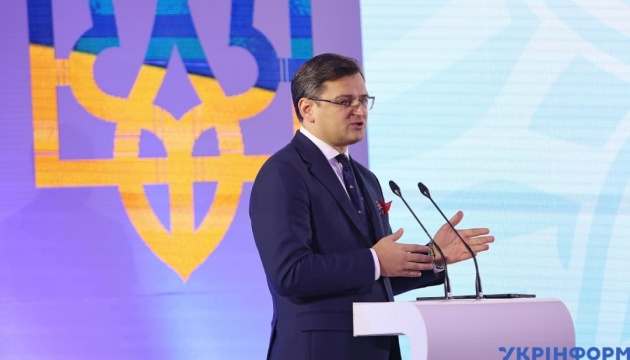 FM Kuleba: Russia withdraws from dialogue, blocking TCG activity
Holding the Normandy format summit requires that Russia fulfills its part of the commitments made during the Paris summit as Ukraine did.
Minister of Foreign Affairs of Ukraine Dmytro Kuleba said this at a joint press conference with German Foreign Minister Annalena Baerbock in Kyiv, an Ukrinform correspondent reports.
Kuleba noted that Ukraine and Russia had undertaken certain commitments at the Paris Summit in 2019 to facilitate the implementation of the Minsk agreements.
"If you take this document and analyze what has been done, you will see that Ukraine fulfilled its part, while Russia did not… When it is asked what needs to be done to hold the Normandy format summit, then, in fact… all we need is Russia's readiness to work in good faith both in the Normandy format and in the Trilateral Contact Group," Kuleba said.
He assured that Ukraine was ready to move further on all the tracks of the Minsk agreements in the Trilateral Contact Group.
At the same time, the chief Ukrainian diplomat stated that the Trilateral Contact Group, where Ukraine and Russia are engaged in the technical implementation of the Minsk agreements with the mediation of the OSCE, was blocked by the Russian side.
"Meetings are taking place, but Russia has withdrawn from the dialogue, even on the political track, and actually block the efforts," he said.
Kuleba stressed that Ukraine "has done more than necessary" for the Normandy format talks to advance.
"We take a very constructive position in this regard but, unfortunately, Russia does not reciprocate our constructive approach," he said.
According to Russian media, political advisers to the Normandy format leaders may meet again in late January – early February. The venue of the meeting has not been approved yet.
ol