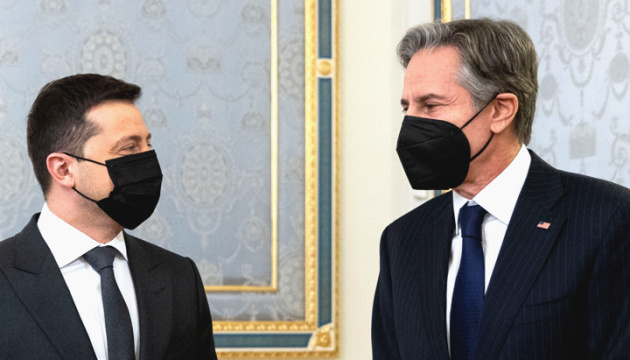 Zelensky, Blinken talk Normandy Four, NATO, Nord Stream 2
President Volodymyr Zelensky insists on the need to intensify the work of all negotiation formats and ensure a possibility of holding a Normandy Four summit.
He said this during a meeting with U.S. Secretary of State Antony Blinken in Kyiv January 19, Ukrinform reports with reference to the presidential press service.
The interlocutors exchanged views on the security situation around Ukraine and the steps taken within the existing negotiation formats, as well as other modalities of political and diplomatic settlement.
"We want to intensify the work of all negotiation formats and pave the way for the Normandy Summit," said the president.
The head of state noted the importance of the fact that the ceasefire in Donbas is observed and no Ukrainian servicemen were killed this week.
The president of Ukraine stressed that everything necessary will be done to achieve peace. This is what a number of Ukrainian peace initiatives put forward, inter alia, within the Trilateral Contact Group are aimed at. At the same time, he expressed gratitude to U.S. President Joe Biden for the help and unwavering support of Ukraine from the United States in the face of existing security challenges.
The President's Office informed that bilateral cooperation in the field of security and defense was discussed in detail. The President of Ukraine stressed the importance of enhancing American assistance aimed at improving the capabilities of the Armed Forces of our state and their ability to resist aggression.
"To take very quick steps to modernize the army, we need help, especially in such difficult times," said the president.
Volodymyr Zelensky raised the issue of support for Ukraine's Euro-Atlantic aspirations, in particular the country's expectations of the NATO Summit in Madrid.
The head of state also stated the need to impose preventive sanctions against Russia in order to curb the Kremlin's aggressive intentions. In this context, the President stressed that Nord Stream 2 is a geopolitical weapon and a threat to the energy security of Ukraine and Europe.
In addition, the interlocutors discussed the current state of implementation of transformations in Ukraine, touched upon the domestic political situation in Ukraine.
"It is important for us to intensify economic cooperation. We are interested in the practical, significant assistance of the United States in strengthening the stability of our country's financial system," Zelensky said.
As reported earlier, U.S. Secretary of State Antony Blinken visited Kyiv on January 19 to reaffirm the United States' commitment to Ukraine's sovereignty and territorial integrity.
On January 20, Blinken sets off for Berlin to discuss recent diplomatic contacts with Russia and joint efforts to curb further Russian aggression against Ukraine. There he will meet with Foreign Minister Annalena Baerbock.
On January 21 in Geneva, Blinken will talk with Russian Foreign Minister Sergei Lavrov.
Photo: Office of the President of Ukraine
im