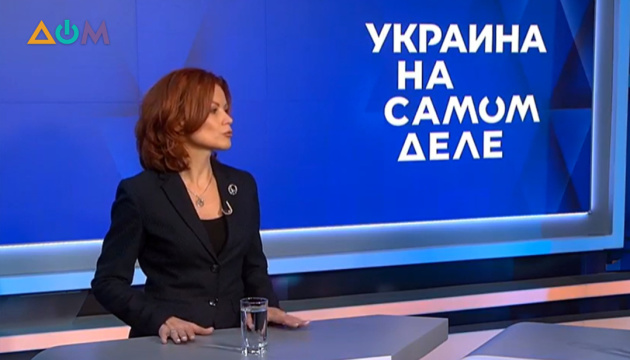 Russia sending signals there will be no Normandy Four summit - expert
A meeting of Normandy Four foreign ministers will eventually take place, while the leaders' summit remains in jeopardy.
Executive chief of the Institute of Eastern European Security, Yulia Osmolovska, expressed the opinion at a panel show on Dom TV on Monday, October 25.
"From my perspective, the meeting of foreign ministers is a kind of compromise and concession that Russia will be ready to make. And everything will be limited to this meeting. Today there are no signs allowing us to expect a summit of Normandy leaders, based on the tough position the Russian Federation has taken. Their main argument is that Ukraine failed to fulfill the agreements reached at the Paris Summit in 2019 so if no results have been achieved there is no sense to meet… But in fact, this is totally not the case," the expert said.
Meanwhile, France and Germany are interested in holding the Normandy Four summit.
"And it is logical for Merkel to make a kind of inventory of results of her work in office and pass this package to a new German chancellor," Osmolovska added.
The expert recalled a phone call of the leaders of France, Germany, and Ukraine.
"The day after that there was the same call with Mr. Putin. That is, France and Germany are putting certain pressure on the Russian Federation to hold this summit. And there is an argument to back this because even if there is some blocking of progress towards any agreements, it is still necessary to meet at least to understand what this blocking is about and how to overcome it," she said.
And Russia's current position on the alleged lack of results of the Paris summit is simply about shifting away from talks, Osmolovska added.
"Russia has now chosen a strategy to avoid negotiations. That is, if it is not at the negotiating table, there is no progress," she explained.
But at least a meeting of the N4 foreign ministers can be expected.
"And we know from the Russian media that it will most likely take place online. And following this meeting, a final document should be drafted. If some consensus is reached at the level of foreign ministers, we will expect that, probably, the summit of the leaders will indeed take place. But so far the Russian side is sending us all the signals that the summit won't happen," Osmolovska summed up.
As Ukrinform reported earlier, on October 11, German Chancellor Angela Merkel and France's President Emmanuel Macron called on Russian President Vladimir Putin to make progress on the issue of holding the Normandy Four summit.
The interlocutors agreed to instruct their foreign ministers to meet as soon as possible.
Commenting on the statement of Ukrainian Minister for Foreign Affairs Dmytro Kuleba who said Kyiv was ready for such meeting, Russian top diplomat Sergei Lavrov claimed President Vladimir Putin had never promised that the foreign ministers would meet but only "promised to instruct (Lavrov - ed.) to consider what should be done to hold such a meeting."
Kuleba, in turn, called out Lavrov's argument a "weak excuse" for refusing to hold the foreign ministerial, adding that the Russians then "don't understand why no one believes their words anymore."
im