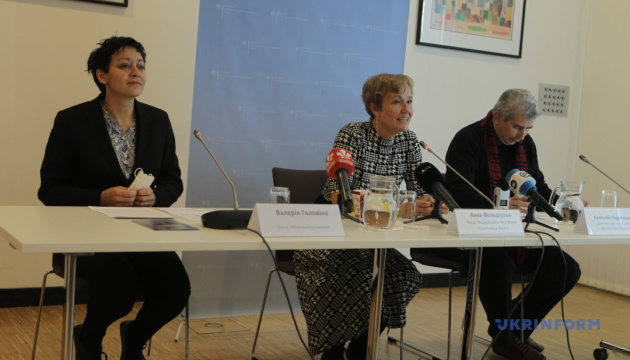 No clear idea so far when Normandy Four top diplomats set to meet - German Ambassador
Germany and France are working hard to set up a meeting of the four foreign ministers in the Normandy format (Ukraine, Germany, France, and Russia), but there is no clear idea when it will eventually take place.
That's according to German Ambassador to Ukraine, Anka Feldhusen, who spoke at a press conference in Kyiv on Monday, October 25, an Ukrinform correspondent reports.
"Our French counterparts and I are already working very hard on the possibility of holding a meeting at the level of foreign ministers in the Normandy format. This has been really difficult. At the moment there is no clear idea when it will take place. We're in contact with both Ukrainian and Russian sides," said Feldhusen.
She also recalled that Federal Chancellor Angela Merkel, while in Kyiv, promised to work toward organizing a summit of the Normandy Four leaders "every day until the last day in office."
As Ukrinform reported, on October 11, German Chancellor Angela Merkel and France's President Emmanuel Macron called on Russian President Vladimir Putin to make progress on the issue of an N4 summit.
The interlocutors agreed to instruct their foreign ministers to meet as soon as possible.
Commenting on the statement of Ukrainian Minister for Foreign Affairs Dmytro Kuleba who said Kyiv was ready for such meeting, Russian top diplomat Sergei Lavrov claimed President Vladimir Putin had never promised that the foreign ministers would meet but only "promised to instruct (Lavrov - ed.) to consider what should be done to hold such a meeting."
Kuleba, in turn, called out Lavrov's argument a "weak excuse" for refusing to hold the foreign ministerial, adding that the Russians then "don't understand why no one believes their words anymore."
im