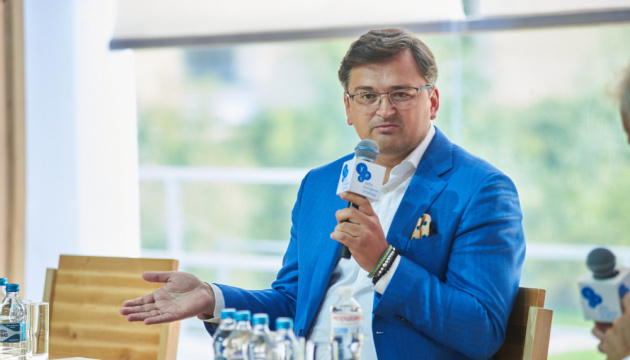 "Spit in the faces" of France, Germany: Kuleba on Lavrov's statement on Normandy Four
Minister for Foreign Affairs of Ukraine Dmytro Kuleba says the words of the Russian foreign minister, Sergei Lavrov, about the Normandy Four foreign ministerial are "spit in the faces" of France and Germany.
The comment came during Kuleba's online briefing on Wednesday, an Ukrinform correspondent reports.
The head of Ukrainian diplomacy noted that Russian President Vladimir Putin during the latest talks with the French president and the German chancellor vowed a meeting of foreign ministers in the Normandy format.
"The German minister is ready. I am also ready for the meeting. We are constructive. But Sergei Lavrov shows it's not for a constructive conversation between ministers that he's set up but rather for a wordplay competition with his own spokeswoman. That is why Lavrov's words are just a spit in the faces of France and Germany," Kuleba said.
As reported, Lavrov commented on Kyiv's statements about the meetings, saying "even fiction is not enough to cover all this. They fantasize everywhere and every day."
The Russian top diplomat also branded Ukraine's initiatives to resolve the Russian-Ukrainian armed conflict "a stream of consciousness."
The head of Ukrainian diplomacy stressed an agreement clearly reached by the Normandy Four leaders that a ministerial must take place, to prepare the ground for a summit.
"At the same time, we haven't yet received any signals from Russia that they are ready to hold it. Sergei Lavrov's latest statement undermines the peace process and runs counter to the agreements reached by the leaders of the Normandy format. I urge my Russian counterpart to agree to hold ministerial meetings within the Normandy Four and sit down at the negotiating table," Kuleba said.
As reported, on October 11, Volodymyr Zelensky had a phone call with German Chancellor Angela Merkel and French President Emmanuel Macron.
On October 15, Zelensky's Press Secretary Serhiy Nykyforov said Russia showed no readiness to meet within the Normandy format at the level of the top diplomats.
im