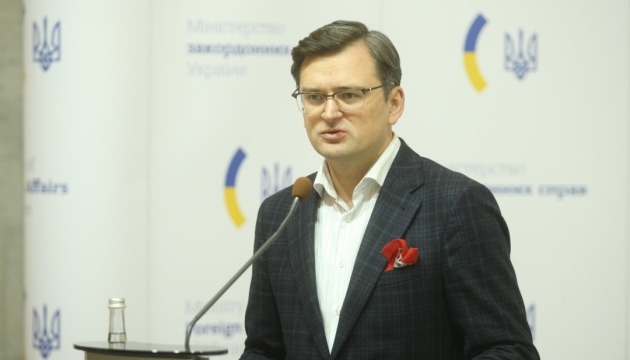 Weak justification - Kuleba on Lavrov's refusal of Normandy Four meeting
Ukrainian Foreign Minister Dmytro Kuleba commented on a statement by Russian Foreign Minister Serhiy Lavrov who refused to meet with his counterparts from Germany, France, and Ukraine in the Normandy format.
The comment came in Kuleba's tweet seen by Ukrinform.
"A weak excuse. Allegedly, Putin never promised that a meeting of Normandy ministers would be held, only 'promising to instruct that authorities consider how it would be possible to get to' such a meeting," Kuleba commented.
Kuleba also noted that the Russians still fail to understand why no one believes their words anymore.
As Ukrinform reported earlier, on October 11, German Chancellor Angela Merkel and French President Emmanuel Macron called on Russian leader Vladimir Putin to make some progress on the issue of holding the Normandy Four summit.
The interlocutors agreed to ask the foreign ministers to meet as soon as possible.
Lavrov commented on Kyiv's statements about such meetings, saying "even fiction is not enough to cover all this. They fantasize everywhere and every day."
The Russian top diplomat also branded Ukraine's initiatives to resolve the Russian-Ukrainian armed conflict "a stream of consciousness."
Earlier, Dmytro Kuleba said Sergei Lavrov's statement about the Normandy Four foreign ministerial are a "spit in the faces" of France and Germany.
Memo
Normandy Four is a format of talks on Donbas settlement, created on June 6, 2014, involving Ukraine, Germany, France, and Russia.
The last time N4 leaders met was in Paris, France, on December 9, 2019.
im