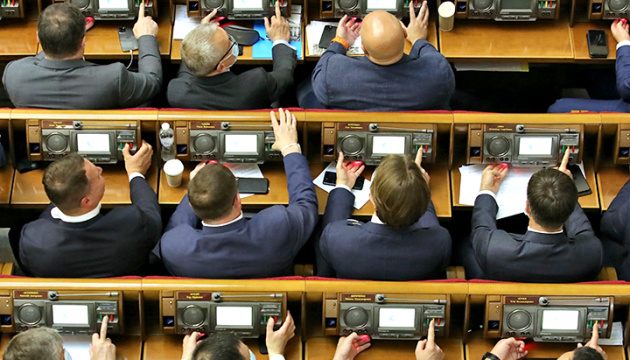 Rada declares Russian State Duma elections illegitimate
The Ukrainian parliament has approved Resolution No. 6078 "On the Statement of the Verkhovna Rada of Ukraine on the illegitimacy of the elections of deputies to the State Duma of the Russian Federation of 2021."
A total of 322 MPs have supported the relevant motion, Ukrinform correspondent reports.
According to the statement, the Verkhovna Rada recognizes the State Duma elections as "unlawful," therefore considering the State Duma formed as a result as "illegitimate."
In addition, the Rada has called on foreign parliaments and international parliamentary organizations to properly assess the rigged parliamentary elections in Russia, the facts of the unlawful voting organized in the illegally occupied Autonomous Republic of Crimea and the city of Sevastopol, and the participation of Ukrainian citizens residing in the temporarily occupied territories in Donetsk and Luhansk regions.
Thus, the statement states that the inclusion of Ukrainian citizens in the lists of voters is illegal and unfounded in terms of the Constitution of Ukraine and international law, as Crimea and Sevastopol are an integral part of Ukraine, while coercion of residents of Crimea and those of the temporarily occupied part Donetsk and Luhansk regions to acquiring Russian citizenship is in violation of international humanitarian law.
The Ukrainian parliament also draws global attention to the fact that the holding of the election in Crimea and the involvement of Ukrainian citizens with unlawfully issued Russian passports in the temporarily occupied part of Donetsk and Luhansk regions are legally void, as the voter lists used in the State Duma elections were illegitimate, unjustifiably including residents of the temporarily occupied territories of Ukraine, which led to falsification of voter lists.
At the same time, it is noted that the process of drafting the so-called voter lists in Crimea and in certain districts of Donetsk and Luhansk regions is seen as another violation by Russia of international humanitarian law which bans the moving of the occupying power's population to the occupied territories, given the uncontrolled process of crossing the internationally recognized state border of Ukraine by citizens of the Russian Federation.
im