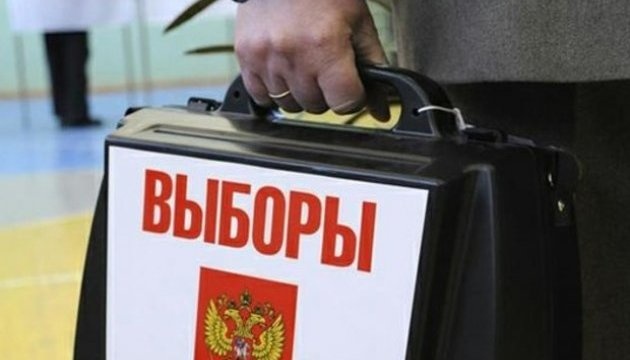 Ukraine to bring to justice organizers of "elections" in occupied Donbas, Crimea
The Ministry of Reintegration monitors and prosecutes those involved in organizing illegal "elections" to the State Duma of the Russian Federation, held in certain districts of Donetsk and Luhansk regions and the occupied Crimea.
That's according to Deputy Minister for Reintegration of the Temporarily Occupied Territories, Ihor Yaremenko, who spoke with Dom TV, Ukrinform reports.
"We have repeatedly stated that we will gather very carefully the information on Russian citizens who organize and participate in these so-called elections. We will gather information about our citizens who are involved in the organization (not those who are forced to vote as we understand that they are victims of the situation). And we will prosecute them in court or apply other procedures. I mean our sanctions against citizens or Russia or third countries," said Yaremenko.
Meanwhile, ordinary Ukrainian citizens who live in the occupied Donbas and Crimea and vote under duress from the occupation administrations do not need to fear prosecution, the deputy minister said.
"We always distinguish very clearly: there are two categories of people. The first is those who are hostages and, consequently, victims of this conflict. They are forced to vote, they are coerced, we understand that these are people who have to survive this war. And we can only feel sorry for them and try to help them, while certainly not condemning them. And there is a second category of people who go and do it consciously, who not only vote [in Russian elections] but also fight against their own country. And with these people, we will be talking through the Criminal Code of Ukraine. We will definitely prosecute them according to law. That is for sure," Yaremenko stressed.
However, citizens who vote in the Russian "elections" for ideological reasons, should decide on their desired place of residence, said the deputy minister.
"When we talk about those who went to the polls, we think it's mostly people who are forced to do it. Yet, among them are those who do it for ideological reasons. But, probably, then these people need to decide, whether they are citizens of Ukraine and hold a Ukrainian passport, or they are citizens of Russia. In this case, as my chief said – and I absolutely agree with him – we need to decide whether you live here or you better look for another place to live. At least, this is fair," Yaremenko concluded.
As reported, on September 17-19, Russia held elections to the State Duma and local bodies. Ahead of the election, virtually all potential candidates from "non-systemic" opposition had been expelled from the campaign, while rights defenders, journalists, and civic activists were repressed and persecuted under the Russian Foreign Agents and Unwanted Organizations laws.
On September 15, the European Parliament passed a resolution calling on the EU to be prepared not to recognize Russia's parliament and to consider excluding Russia from the PACE if Russia's 2021 parliamentary elections are declared rigged and in violation of democratic principles and international law.
On September 17, the Ministry of Foreign Affairs of Ukraine strongly protested and condemned the unlawful holding of Russian elections to the State Duma in the temporarily occupied territory of Crimea and the forcible involvement of Ukrainian citizens holding illegally issued Russian passports in the temporarily occupied territories of Donetsk and Luhansk regions.
im