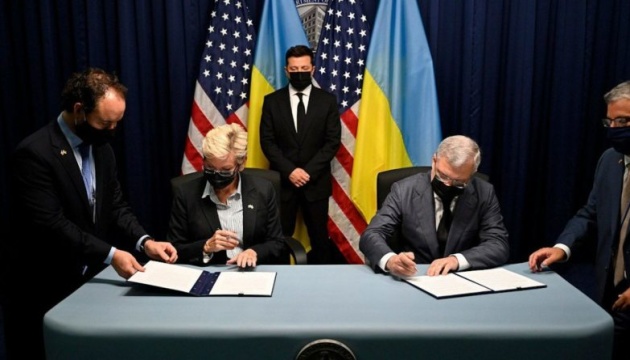 President's Office: Number of important documents signed as part of Zelensky's visit to U.S.
As part of the official visit of President Volodymyr Zelensky to the United States, a number of important documents were signed, including a Memorandum of Understanding between the governments of Ukraine and the United States on commercial cooperation.
According to the President's Office, First Deputy Prime Minister, Minister of Economy of Ukraine Oleksiy Liubchenko and U.S. Secretary of Commerce Gina M. Raimondo signed the memorandum. The memorandum provides for the promotion of commercial participation of U.S. companies in the Ukrainian economy, as well as participation of Ukrainian companies in the U.S. economy. Participants also have auxiliary goals related to the development and implementation of commercial projects and public procurement in both Ukraine and the United States.
The signing of the memorandum lays the basis for long-term U.S.-Ukraine commercial cooperation in such areas as energy, infrastructure, digital economy, defense and civil defense technologies, customs and border control technologies, cybersecurity, medical equipment and technologies; pharmaceuticals, etc.
In addition, three agreements worth $2.5 billion were signed by the state concern Ukroboronprom. The documents relate to cooperation with U.S. defense companies.
Following the talks with the top managers of U.S. Lockheed Martin Corporation, an agreement was reached to cooperate in defense military industry. It concerns the development of joint projects and programs, the organization of research and development. The parties also agreed on cooperation in the field of compliance, which is important for maintaining a high level of transparency in cooperation.
It was also agreed that Ukroboronprom will cooperate with Harris Global Communications, Inc. (part of L3Harris Technologies), which is one of the world leaders in the field of defense solutions. The signed agreement provides for the implementation of joint projects, in particular investments, and cooperation in the manufacturing of products for air, land and sea systems. In addition, the parties signed an agreement with Global Ordnance, an international company that has been operating in the global arms and military equipment market for many years. The document concerns, in particular, the acquisition and promotion of Ukroboronprom products.
Negotiations with Harold Yoh, President of Day & Zimmermann Lone Star LLC, resulted in the signing of an agreement on the development of modernization projects and the creation of new production facilities with foreign capital for Ukroboronprom's enterprises.
The Ministry of Agrarian Policy and Food of Ukraine signed a Memorandum of Understanding with U.S. Lindsay intending to manufacture irrigation equipment in our country.
In addition, Minister of Health Viktor Liashko in the United States reached important cooperation agreements with world market leaders, in particular, General Electric, Medtronic and MSD, beneficial for the Ukrainian health care system.
As reported, President of Ukraine Volodymyr Zelensky and his wife Olena Zelenska are on an official visit to the United Stated. The visit is set to complete on Sunday, September 5.
iy