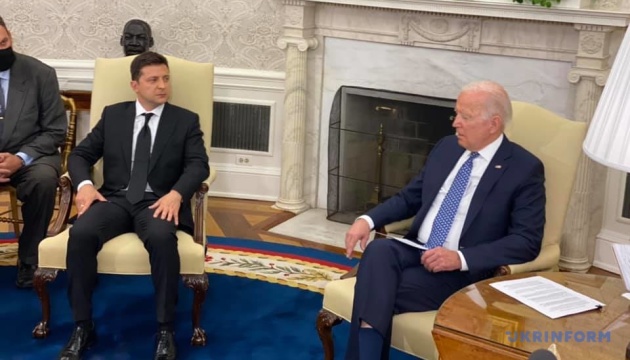 Zelensky-Biden summit lasted nearly two hours
President Volodymyr Zelensky spent about two hours in the White House, where he met with U.S. President Joe Biden.
The head of the Ukrainian state left the residence of the American leader around 23:15 local time, Ukrinform reports with reference to a live broadcast from the White House by Ukraine 24 TV.
Zelensky arrived for a summit with Biden at 21:00.
At the start of the meeting, the two presidents delivered brief statements to the press, after which they proceeded to have face-to-face talks behind closed doors.
"Instead of the initial schedule, the conversation between the presidents of Ukraine and the United States lasted two hours. The presidents took our relations to a new level. We have a strong joint statement and a lot of work for me and U.S. Secretary of State Anthony Blinken to implement it." Minister for Foreign Affairs Dmytro Kuleba wrote on Twitter.
As reported earlier, President Volodymyr Zelensky of Ukraine is in Washington on a working visit at the invitation of U.S. President Joe Biden.
Earlier on Wednesday, Zelensky laid a wreath at the Tomb of the Unknown Soldier at Arlington Cemetery, visited the Holocaust Museum, and met with representatives of major American businesses.
In addition, a meeting with representatives of the Congressional Ukrainian Caucus and participation in the opening of the Ukrainian House have been scheduled for the same day.
Zelensky's visit to the United States is set to complete on Sunday, September 5.
im