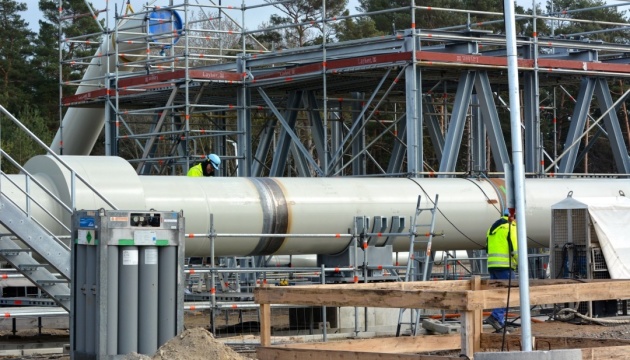 Ukraine parliament head calls on U.S. lawmakers to pursue sanctions to prevent Nord Stream 2 launch
Verkhovna Rada Chairman Dmytro Razumkov has called on the U.S. Congress to refrain from approving any agreements that would threaten Europe's energy security and pose a threat to the national interests of Ukraine and the United States.
That's according to parliament's press service referring to Razumkov's open letter to the Speaker of the U.S. House of Representatives, Nancy Pelosi, Ukrinform reports.
"I am deeply concerned about the ongoing construction and possible commissioning of the Nord Stream 2 gas pipeline, which Russia is using as a hybrid warfare tool. The project is posing a direct threat to the energy security not only of Ukraine, but of the entire Europe," the parliament speaker said.
Razumkov noted that Nord Stream 2 is primarily a geopolitical project aimed at fostering energy dependence of European countries on Russia's gas monopoly. It significantly narrows the ways to diversify energy supplies to European consumers, the Rada chairman stressed.
Nord Stream 2 runs against the requirements of the EU's Third Energy Package and opens up more opportunities for Russia to abuse its dominant position in the European energy market," wrote the parliament speaker.
According to the open letter, Nord Stream 2 should be seen as part of the aggressive policy Russia has been pursuing both against Ukraine and the entire Western world. "Completion and commissioning of the project will allow Russia to further intensify its aggression against Ukraine and potentially against other European powers," he said.
Razumkov thanked the U.S. Congress for their continued support of Ukraine in countering threats emanating from Russia, as well as for the sanctions introduced earlier that have deterred Russia from weakening Ukraine's energy security.
He has also called on the U.S. Congress to consistently pursue a sanctions policy to prevent the completion and commissioning of the Nord Stream 2 gas pipeline and, if necessary, to consider additional enhanced restrictions targeting legal entities and individuals involved in the construction.
As Ukrinform wrote earlier, reports emerged in the U.S. media on the agreement reached between the Joe Biden administration and Angela Merkel's government, which would allow the completion of the gas pipeline in exchange for European security guarantees.
U.S. Deputy Secretary of State for Political Affairs Victoria Nuland said that, under the new agreement between Washington and Berlin, Germany undertakes to initiate sanctions against Russia if the latter resorts to a new act of aggression against Ukraine.
Background
The Nord Stream 2 gas pipeline, with an expected nominal annual capacity 55 billion cubic meters, is set to run under the Baltic Sea from Russia to Germany.
It is operated by Nord Stream 2 AG, a subsidiary wholly owned by Russia's energy giant Gazprom.
Nord Stream 2 has seen fierce opposition from Ukraine and some Central and Eastern European countries over concerns about Russia using it as energy leverage, increasing own influence in Europe, and because of the massive cut of transit fees for these states, including Ukraine.
The United States earlier hit the project with a range of sanctions, discouraging companies involved from further participation in the pipelaying.
In May 2021, the State Department told Congress that Nord Stream 2 AG and its CEO Matthias Warnig, engaged in sanctionable activity. However, Secretary of State Antony Blinken went on to waive those sanctions, claiming the decision was in the U.S. national interest.
Co-Chair of the Congressional Ukraine Caucus Marcy Kaptur (D-Ohio) harshly criticized the agreements allegedly to be sealed between the United States and Germany as regards Russia's Nord Stream gas pipeline project, according to a recent leak in the media.
She stressed that Nord Stream 2, as Russia's "malign influence project," will "increase Vladimir Putin's leverage in Europe and disrupt the NATO alliance."
im