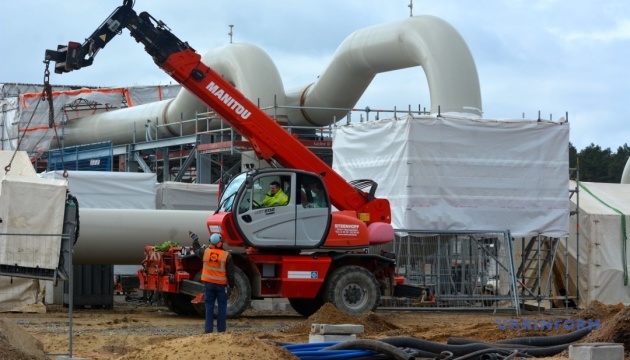 Ukraine, Poland condemn Nord Stream 2 deal between U.S., Germany
Ukraine and Poland have called the agreement between the United States and Germany on the Nord Stream 2 gas pipeline "the resignation from attempts to stop the launch," the decision which has created "political, military and energy threat for Ukraine and Central Europe."
That's according to a joint statement by Ukraine's Foreign Minister Dmytro Kuleba and his Polish counterpart Zbigniew Rau, released on MFA Ukraine's website on Wednesday, Ukrinform reports.
They are confident that the agreement published on July 21 significantly deepens the crisis that's been ongoing since the decision was approved to lay the pipe bypassing Ukraine – mere months after Russia's invasion and illegal annexation of Ukrainian territory.
Top diplomats believe the U-turn from efforts to halt NS2 construction is "increasing Russia's potential to destabilize the security situation in Europe, perpetuating divisions among NATO and European Union member states."
"Each credible attempt to cover the security deficit must take into account its negative consequences in three areas: political, military and energy. Such an attempt shall also have a democratic dimension, that assumes talks with governments of the countries most affected by the negative effects of NS2 at the stage of reaching an agreement," says the joint statement.
"Unfortunately, the hitherto proposals to cover the resulting security deficit cannot be considered sufficient to effectively limit the threats created by NS2," the two ministers note.
The top diplomats stress that Ukraine and Poland "will work together with their allies and partners to oppose" the Nord Stream 2 project, and call on the United States and Germany "to adequately address the security crisis in our region, that Russia is the only beneficiary to."
Also, taking to Twitter, Kuleba said Ukraine was initiating consultations with the European Commission and Germany in line with Article 274 of the Ukraine-EU Association Agreement, with the relevant notes having already been sent to Brussels and Berlin.
Відповідно до статті 274 Угоди про Асоціацію з ЄС Україна офіційно ініціює консультації з Єврокомісією і ФРН щодо Північного потоку 2, який загрожує безпеці України і порушує принципи диверсифікації Енергетичного Союзу ЄС. МЗС вже надіслало відповідні ноти в Брюссель і Берлін.

— Dmytro Kuleba (@DmytroKuleba) July 21, 2021
As Ukrinform wrote earlier, a number of U.S. media outlets recently reported on a deal allegedly reached between the Joe Biden Administration and Angela Merkel's Government on Russia's Nord Stream 2 project, which would effectively allow completing the construction of the pipe in return for guarantees of European security.
im