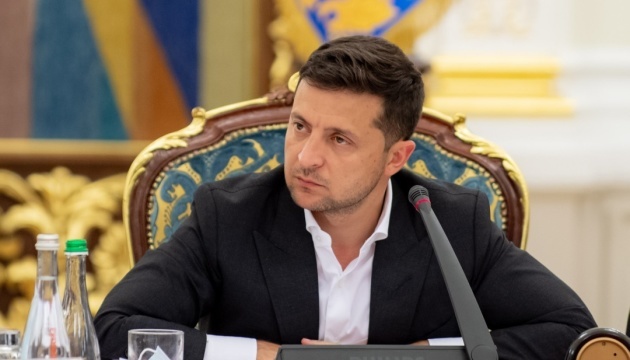 Zelensky: Nord Stream 2 is no different from annexation of Crimea
President Volodymyr Zelensky sees the similarities between the construction of the Nord Stream 2 gas pipeline and Russia's illegal occupation of Crimea, and believes that the Russian side will use Nord Stream 2 as a lever to achieve its interests in Donetsk and Luhansk regions.
"I think that Nord Stream 2 is no different from the annexation of Crimea. I will explain why. The war was started in eastern Ukraine in order to take Crimea and be able to bargain, so the issue of Crimea is a bit 'forgotten'," Zelensky said in an interview with the German newspaper Frankfurter Allgemeine Zeitung.
According to him, now the Russians stick to the same scenario, they have constant levers for bargaining.
In particular, he stressed, Russia had been issuing its passports in Crimea for many years, Crimeans always had both Ukrainian and Russian passports, and then Crimea was annexed ostensibly to protect Russians. Later, the war in eastern Ukraine was started for the issue of Crimea to be forgotten. At the same time, the Head of State noted that Russian passports were currently being distributed in Donetsk and Luhansk regions, and about 300,000 passports had already been issued.
"Further, in order to bargain for Donbas, to make us pardon the separatists, to secure Russia's control over the results of local elections, etc., the stakes should be amped up. Nord Stream 2 is a trump card now. Really, they have a royal flush in their hands, which is also partially supported by Europe. If they complete the construction of Nord Stream 2, it will pose a threat to the energy security of Ukraine and Europe," the President stressed.
If the Russians complete the technical works of Nord Stream 2 this year, the project will be launched in two or three years, he noted.
"All this is done to prevent Ukraine from having the next contract. To be more precise, they will use this lever already in the issue of Donbas," Zelensky is convinced.
At the same time, the Head of State expressed the opinion that it would be great if Europe and the United States were partners and co-owners of Ukraine's GTS.
As reported, U.S. President Joe Biden reaffirmed the earlier decision of his administration to waive sanctions against Nord Stream 2 despite a sharp reaction from the Congress.
On May 28, President of Ukraine Volodymyr Zelensky and Prime Minister of Slovakia Eduard Heger stated during a joint meeting that the Nord Stream 2 gas pipeline project undermined energy solidarity between European states.
NJSC Naftogaz of Ukraine called on all parties concerned to oppose Nord Stream 2 sanctions waiver.
ol