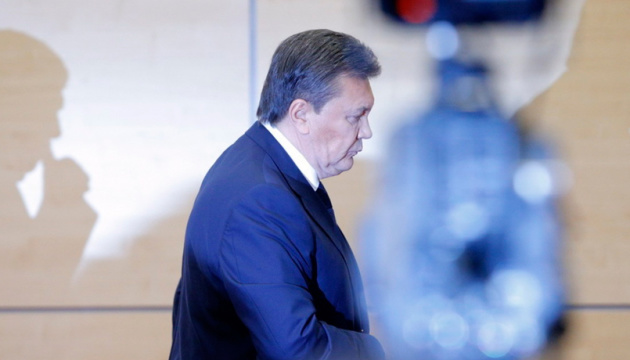 New judges to consider appeal against Yanukovych's arrest in absentia
Kyiv Court of Appeal has postponed until January 28 the consideration of a complaint lodged by the defense team of former Ukrainian President Viktor Yanukovych against a measure of restraint in the form of arrest in absentia in the case of usurpation of power, the court's press secretary, Tetiana Hevedze, has told Ukrinform.
"The prosecutor called for recusal of a member of the panel of judges, and his request was granted. Therefore, the next hearing will take place on January 28 at 16:00, and there will be a new composition [of the court]," Hevedze said.
On May 4, Kyiv's Pechersky District Court arrested Yanukovych in absentia in the case of usurpation of power.
The Prosecutor General's Office said the court's decision to arrest Yanukovych in absentia gave the prosecution the right to initiate extradition proceedings against him.
Prosecutors will also apply to the court for permission to conduct a special pretrial investigation in absentia.
On November 16, Kyiv Court of Appeal partially upheld a complaint filed by Yanukovych's defense lawyers and overturned the decision to arrest him in absentia in criminal proceedings on the organization of a number of serious and especially serious violent crimes, including premeditated murders, committed against protesters on Independence Square and adjacent streets in Kyiv between February 18 and 20, 2014.
op