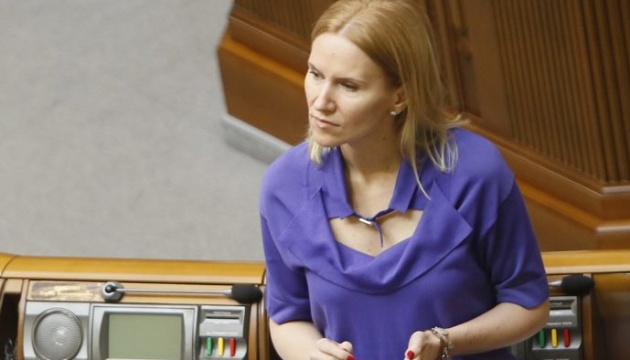 Kondratiuk calls on Ukrainian parliament to adopt statement on Belarus
Deputy Head of the Verkhovna Rada of Ukraine Olena Kondratiuk has called on the Ukrainian parliament to adopt on September 15-18 a draft resolution with a statement on the situation in Belarus.
According to Ukrinform, she stated this at a meeting of the parliament's conciliation council on September 14.
"I would like to say a few words about the key role of the Ukrainian parliament in foreign policy, namely the adoption by the parliament this week of a statement on the events in Belarus. I am convinced that the Ukrainian parliament cannot stay away from the situation when the Belarusian people chose the result they deserve in the presidential election and are now facing the use of brutal force, repression and intimidation by the Belarusian authorities. We have to take a clear position […] That is why I am in favor of the parliament's immediate consideration of a resolution on the situation in the Republic of Belarus," Kondratiuk said.
On September 3, the Verkhovna Rada Committee on Foreign Policy and Interparliamentary Cooperation approved draft resolution No. 3053a "On the Statement of the Verkhovna Rada of Ukraine on the Situation in the Republic of Belarus." The statement assesses the current situation in Belarus, condemns the government's methods of resolving it, expresses the unacceptability of involving Russian and CSTO forces to normalize the situation, and calls for a democratic solution to the crisis with the involvement of independent international mediators.
Protests are going on in Belarus against the rigging of the August 9 presidential election. According to official figures, Alexander Lukashenko, who has ruled the country since 1994, won 80.1% of the vote, while opposition candidate Svetlana Tikhanovskaya garnered 10.1%. After that, Tikhanovskaya was forced to leave for Vilnius.
Belarusian security forces continue to use violence against demonstrators and detain protesters. According to the opposition, more than 10,000 people have been detained and several people have died since the beginning of the demonstrations.
The European Union has not recognized the results of the presidential election in Belarus and has decided to impose personal targeted sanctions on Belarusian officials involved in violence and electoral fraud.
op