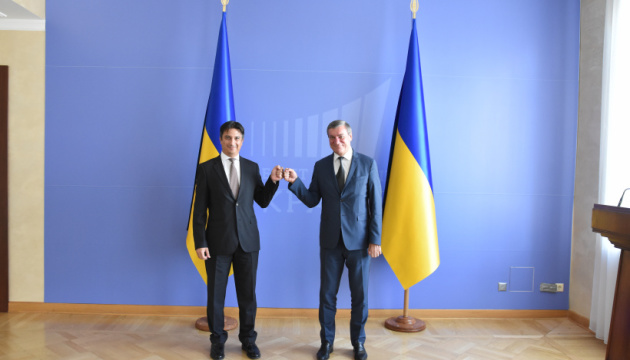 Urusky, Turkey's ambassador discuss development of Ukrainian-Turkish relations
Ukraine's Deputy Prime Minister and Minister for Strategic Industries Oleh Urusky held a meeting with Ambassador of the Republic of Turkey to Ukraine Yağmur Ahmet Güldere.
The meeting took place on September 8 following the recent visit of a Ukrainian delegation led by Minister Urusky to Turkey, according to the Government portal.
Urusky thanked the Turkish side for the hospitality and warm welcome of the Ukrainian delegation and briefed the ambassador on the results of the visit to Ankara and Istanbul, especially on the meeting with President of the Republic of Turkey Recep Tayyip Erdoğan. During the meeting, the parties discussed important issues related to the development of Ukrainian-Turkish relations in the field of military-technical cooperation, the implementation of joint projects in the aerospace industry, the development of certain industries and the implementation of current areas of cooperation. The Turkish side also organized other important meetings with the heads of the ministries, departments, enterprises and organizations of the Turkish defense industry.
The Deputy PM paid special attention to a specific list of the main areas of cooperation that the parties intend to develop, and stressed that the visit of the delegation highlighted the friendly relations between the two countries and a common strategic vision of industrial development.
"Today we have a close and friendly relationship between the countries. During my recent visit to the Republic of Turkey, we identified a number of areas for joint work. We see that both Ukraine and Turkey express interest in the development of cooperation in many areas of the defense industry. I hope that in the future our relations will continue to be filled with specific content and projects that will be mutually beneficial for both countries," Urusky stressed.
In his turn, Ambassador Yağmur Ahmet Güldere stressed: "Ukraine is a strategic partner for Turkey and these are not empty words. Cooperation in the defense industry between the countries is a rising star in our relations. We hope for the further development of mutually beneficial cooperation between the countries and the creation of new joint projects. Let's work together to develop our industries to strengthen our common security."
Moreover, the ambassador noted that interpersonal relations are of utmost importance for both countries. "In 2020, we expect to begin the process of treatment in Turkey of Ukrainian servicemen wounded during the hostilities in eastern Ukraine. We hope that in the near future the necessary procedures will be passed and the servicemen will be able to come to Turkey," he said.
In addition, Urusky thanked Turkey for supporting the sovereignty and territorial integrity of Ukraine.
At the end of the meeting, the interlocutors expressed mutual respect and their readiness for cooperation.
ish