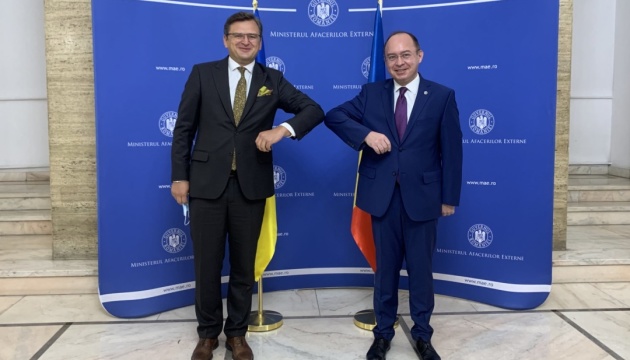 Administrative reform in Ukraine cannot be subject of international discussions - Kuleba
Administrative reform in Ukraine cannot be the subject of discussions at the international level, despite the possible dissatisfaction of certain national minorities, as this issue is an internal affair of the state, Ukrainian Foreign Minister Dmytro Kuleba has said.
He said this at a joint press conference with Romanian Foreign Minister Bogdan Aurescu in Bucharest on Tuesday, September 8, according to an Ukrinform correspondent.
"As for administrative and territorial reform, it is exclusively a matter of domestic policy. No country in the world will teach us how to arrange the administrative and territorial structure of our country. This reform is taking place in close cooperation with the EU, in compliance with European standards and with respect for the rights of persons belonging to national minorities," Kuleba said.
He added that Ukraine had fruitful discussions on this issue with Hungary, Bulgaria and Romania, during which they found balanced solutions that preserve full opportunities for national communities to develop in Ukraine's new administrative system.
In this context, Kuleba stressed that all members of the Romanian community are citizens of Ukraine.
"We fully respect their Romanian identity, just as Romania respects the identity of Ukrainians," the diplomat said.
At the same time, he noted that Romanians living in Ukraine may, for some reason, be dissatisfied with the administrative reform in their city, just as Ukrainians are dissatisfied with it.
"It's normal because it's an administrative reform. But this is purely our internal affair. There is nothing to discuss here. There are no international obligations regarding the administrative structure of a country. But there is a commitment to respect the rights to education of national minorities, and we certainly have a dialogue on this not only with minorities but also, for example, with the Romanian government, because we understand that their hearts ache for Romanians who live in Ukraine, just as our hearts ache for Ukrainians living in Romania," Kuleba said.
Yevheniia Kravchuk, deputy head of the parliamentary faction of the Servant of the People party, said on September 7 that the new wording of a draft law on amendments to the Constitution of Ukraine regarding decentralization could be submitted to the Verkhovna Rada after the local elections, closer to winter.
On December 13, 2019, President Volodymyr Zelensky registered in the Verkhovna Rada the bill No. 2598 "On Amendments to the Constitution of Ukraine (concerning decentralization of power)."
op