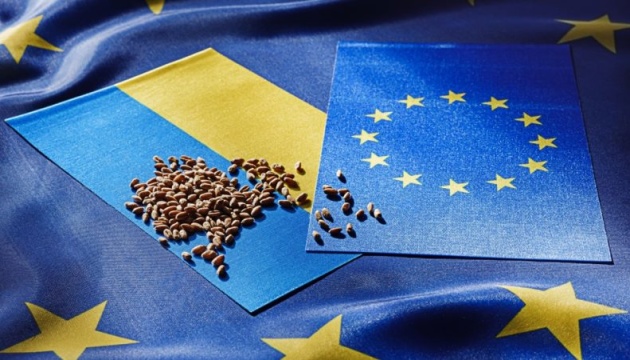 Warsaw finalizing talks with Vilnius to streamline Ukrainian grain transit
Customs routine for Ukrainian grain going in transit via Poland to third countries, should soon be transferred from the Ukrainian-Polish border to the ports of Lithuania, and eventually, possibly, to the ports of Germany.
Polish Minister of Agriculture Robert Telus spoke of this on Wednesday during a press conference in Warsaw after video conference talks with his Ukrainian counterpart Mykola Solskyi, an Ukrinform correspondent reports.
"We raised the issue of transit to help (Ukraine - ed.). We are at the final stretch to reach an agreement with Lithuania to transfer this control routine from the Ukrainian-Polish border to Lithuanian ports. This inspection will lead to the grain leaving the EU," Telus said.
He added that the negotiations between Warsaw and Vilnius in this regard "are at the finish line as technical issues remain to be resolved." According to him, early next week, a meeting will be held with the Lithuanian side regarding the transit of Ukrainian grain through Poland to Lithuania.
As the Polish minister noted, Solskyi also proposed that such control be transferred to Germany as well, so that the inspection takes place not at the Ukrainian-Polish border, but in German ports.
"I promised that we will consider the issue as we need to discuss it with the relevant control agencies. If there is such a legal possibility and a guarantee that this grain will not return to Poland, we will go in the direction of helping Ukraine," Telus stated.
According to the Polish minister, the parties also discussed the possibility of lifting the embargo on the export of Ukrainian grain to the Polish market and introducing the so-called licensing.
"The Ukrainian side stated: if Poland declares that it does not need this grain by the end of the year, then they will not issue licenses. We will consider this offer. But at first glance, it seems that this is a good one," Telus said.
He added that in order for Warsaw to agree to such a move, appropriate regulations must be worked out in Poland.
"It is Poland that will decide until when Ukrainian grain will not enter the Polish market," he said.
The minister emphasized that it is necessary to prepare appropriate mechanisms for the export of Ukrainian agricultural products in the future with the view of Ukraine's future membership in the EU.
As reported, the so-called grain crisis continues in relations between Ukraine and Poland. Since September 16, Poland unilaterally, contrary to the position of the European Commission, indefinitely blocked the import of Ukrainian grain (wheat, corn, sunflower, and rapeseed) to the domestic market, while maintaining the transit of these crops through the country's territory.
In response, Ukraine filed a complaint with the WTO against Poland, as well as Hungary, which had acted in a similar manner.
Photo: cfts.org.ua