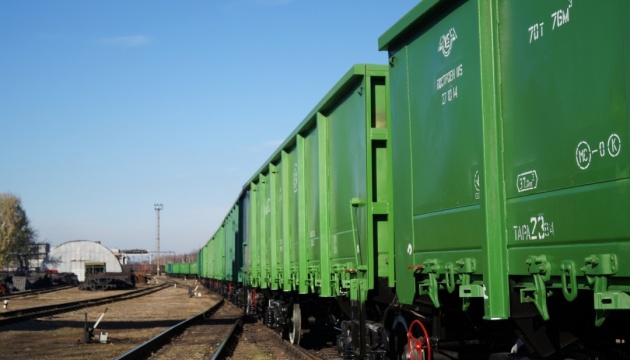 European Commission hopes to see last year's volume of Ukrainian transit through Poland restored
The European Commission is looking for ways to expand the capacity of the Danube transport hub, which accounts for about 60 percent of all shipments of Ukrainian food exports to third countries, and at the same time, hopes to expand the capacity of other directions within the EU "Solidarity Lanes, including through Poland.
European Commissioner for Transport Adina Vălean stated this today during a press conference in Brussels following the negotiations with the Vice-Prime Minister of Ukraine, Oleksandr Kubrakov, an Ukrinform correspondent reports.
The Commission is now considering the expected volume of agricultural goods from Ukraine and compliance with obligations, expecting some improvements, including in October, on the Sulyn Canal, regarding its capacity.
The official recognized that some capacities for transit remain unused within the existing Solidarity Lanes, including in Poland. If such measures are implemented, the expected monthly volumes will reach 4 million tons, said the Commissioner.
She noted that currently 60 percent of all shipments of Ukrainian agricultural products goes through Romania, as the use of its Danube ports and the port of Constanta is seen as most "natural" and profitable. At the same time, the European Commissioner answered the clarifying question from journalists regarding changes in the volume of transportation of Ukrainian food exports through the Solidarity Lanes in Poland.
Noting Poland's case, the official said: of Poland: "You can look at the figures for the volume of goods moved last year compared to this year, and you will see it is three times less. This means that the capacity is not fully used at the moment." This is happening for various reasons, Vălean said, admitting she would not want to comment on those.
As reported, since the outset of Russia's invasion of Ukraine in February 2022, the EU and its member states have been providing Ukraine with substantial political, economic, humanitarian, and military assistance. As early as in May 2022, the EU launched the so-called "Solidarity Lanes" on the borders with Ukraine, which allowed the country to continue its own grain exports to global markets amid the Russian blockade of Ukrainian Black Sea ports.
In July 2023, Russia pulled out of the Black Sea Grain Initiative, launched thanks to the efforts of the UN and Turkey, after which the EU's "Solidarity Lanes" on land and along internal waterways in Europe remained almost the only opportunity for Ukraine to continue export-import operations.
Photo: agravery.com