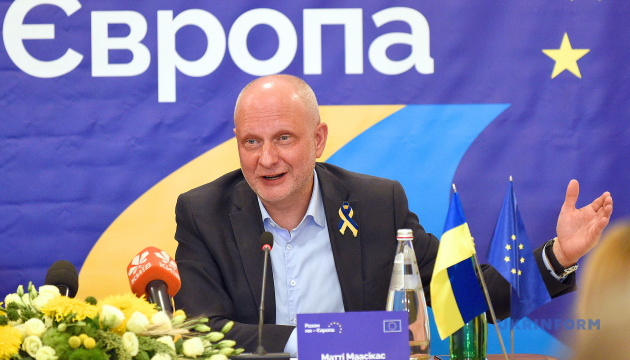 EU employing all available mechanisms to help Ukraine get through winter - Maasikas
The European Union is using all mechanisms and partnerships available to help Ukraine survive the winter cold.
That's according to the chief of the EU Delegation in Ukraine, Matti Maasikas, who spoke in an interview with Ukrinform.
"Russia is trying to turn the cold winter into a weapon of war against the Ukrainian people. For this, Russia continues weaponising energy and deliberately targeting civilian infrastructure," Maasikas said.
Russia's cruel attacks aim at "inflicting even more human suffering on the Ukrainian people, but also depriving hospitals, emergency services and other critical services of electricity, heating, and water."
These attacks "amount to war crimes for which there can be no impunity. We will need to collectively work to bring all those responsible to account," said the ambassador.
He noted that the EU praises "tireless efforts, hard work and dedication" of Ukraine's energy repair teams "in bringing light, warmth, - and thus hope - to every Ukrainian home."
We are using our all available instruments and partnerships to help Ukraine get through this winter," said Maasikas.
"We support Ukraine in repairing damage inflicted by Russia on the energy infrastructure. Numerous energy equipment, from generators to transformers and cables, have been delivered via the EU Civil Protection Mechanism. Overall, European countries have mobilised more than 800 high-capacity power generators to Ukraine's national authorities via this mechanism," the envoy noted.
Separately, he added, many of the ongoing EU-funded projects have been mobilized or repurposed in order to purchase generators and other emergency equipment. The EU is also helping to repair the critical municipal infrastructure, such as heating, water and wastewater supply.
Soon after the start of the full-scale invasion, the EU-led ULEAD with Europe programme, the Union's flagship decentralisation support activity, handed over 2,500 generators to Ukraine municipalities.
The EU4ResilientRegions programme, co-financed with Germany, delivered a first batch of generators to Kherson within two weeks since its liberation.
"In addition to generators, since February, we have allocated 485 million euros for humanitarian aid programmes to help Ukrainians affected by the war. Amongst others, this work includes rehabilitation and basic refurbishment of schools and shelters, temporary centres/reception centres, distribution of emergency shelter repair kits and winterisation relief items and cash for heating/energy needs," Maasikas said.
Additionally, over 77,400 tonnes of in-kind assistance with an estimated value of almost 490 million euros has been delivered to Ukraine from EU Member States and partners via the EU Civil Protection Mechanism.