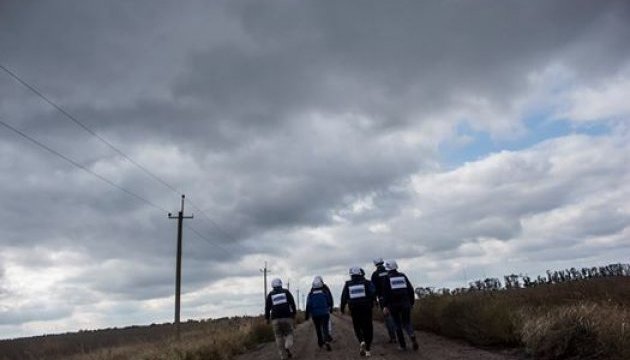 OSCE recorded nearly 400 ceasefire violations in eastern Ukraine over past weekend
The OSCE Special Monitoring Mission to Ukraine (SMM) recorded 382 ceasefire violations in Donetsk region and nine in Luhansk region between the evenings of 23 and 25 April, according to an OSCE SMM report.
"In Donetsk region, between the evenings of 23 and 25 April, the SMM recorded 382 ceasefire violations, including 297 undetermined explosions," the report reads.
The majority of ceasefire violations, including the majority of explosions, occurred on the evening of 23 April in areas southeasterly of Avdiivka (government-controlled, 17km north of Donetsk) and at westerly directions of Donetsk (non-government-controlled); on the morning and evening of 24 April at westerly directions of Horlivka (non-government-controlled, 39km north-east of Donetsk); and during the evenings of 23 and 24 April at northerly directions of Shyrokyne (government-controlled, 100km south of Donetsk).
In Luhansk region, between the evenings of 23 and 25 April, the Mission recorded nine ceasefire violations, including two undetermined explosions.
Seven ceasefire violations occurred during the nights of 23-24 and 24-25 April in areas east-south-east of Stanytsia Luhanska (government-controlled, 16km north-east of Luhansk).
Following agreement reached at the meeting of the Trilateral Contact Group on 22 July 2020 regarding additional measures to strengthen the ceasefire, from 00:01 on 27 July 2020 until the end of the reporting period, the SMM has so far recorded at least 22,435 ceasefire violations in both Donetsk and Luhansk regions.
ish