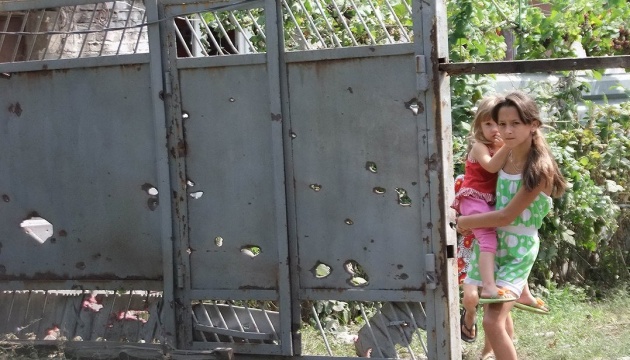 Denisova: Seven civilians killed due to Russian aggression in eastern Ukraine this year
Seven civilians were killed and ten more were wounded due to Russian aggression in eastern Ukraine this year, Verkhovna Rada Human Rights Commissioner Liudmyla Denisova has said.
She announced this during a round table discussion a video of which she posted on her Facebook page, according to Ukrinform.
"Observance of the right to life and security of the residents of the occupied territories and districts on the contact line in eastern Ukraine is under constant threat. Last year, as a result of ongoing aggression, 18 civilians were killed and 89 were wounded. Since the beginning of this year, the number of civilian casualties has reached 17: seven killed and ten wounded. Two children are among those killed. Some 70% of all victims (12 people) are related to the detonation of landmines or other explosive devices, and 24% (four people) [were hurt] as a result of shelling," Denisova said.
She said that according to the information she gets from the temporarily occupied territories of eastern Ukraine, the occupying authorities are actively conducting the process of documenting residents with Russian passports. "Such measures are being taken to ensure the participation of our fellow citizens in the parliamentary elections to the State Duma in the autumn of 2021," Denisova said.
"Physicians, teachers, and employees of enterprises are forced to obtain Russian passports. If they refuse to obtain a Russian passport, they may be fired. In health care facilities, medical care is provided only to citizens who have passports issued by the occupation administration or the Russian Federation," she said.
Denisova noted that mobilization had begun against the background of the escalation of the security situation.
"They recruit men between the ages of 18 and 35, who are also forced to obtain passports of the occupation administration and the Russian Federation. The aggressor is conducting active informational propaganda aimed at spreading hate speech and inciting citizens against Ukraine. The so-called patriotic education has been introduced in schools, which leads to the militarization of children," Denisova said.
She said that 280 Ukrainian citizens were illegally held in the temporarily occupied territories of eastern Ukraine and another 258 people were considered missing.
op