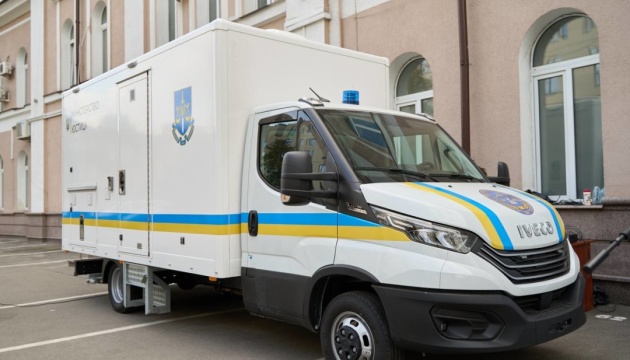 Second mobile DNA lab to be deployed in Ukraine's war zones
Ukrainian law enforcement received from France a second mobile DNA laboratory to operate in active combat zones.
That's according to the Prosecutor General's Office, Ukrinform reports.
French Ambassador to Ukraine Etienne de Poncins and Prosecutor General Andriy Kostin officially handed over the keys to the lab to Justice Minister Denys Maliuska.
As noted, the first such laboratory was handed over in August 2022. It has been effectively manned by experts across Kharkiv region for more than eight months.
"Currently, we are getting the second mobile DNA lab. To a large extent, this became possible thanks to the personal efforts by Ambassador, for which I am sincerely grateful to you, the French minister of justice, and the entire French Republic for their support and cooperation," the press service cites the prosecutor general as saying.
The PGO reported that the lab will be deployed in Dnipropetrovsk and neighboring regions, which have been suffering from Russia's massive artillery and air strikes. Significant destruction was inflicted on the said regions, where numerous civilian casualties were also reported.
"Law enforcers still find the bodies of our citizens, and sometimes the sites of mass burials, in the course of inspecting the areas. The mobile lab will significantly speed up the process of identifying those bodies. Ukrainian experts will be able to do their job right at the crime scene, thereby reducing the period of uncertainty for the families of the victims of aggression," stated prosecutor general.
Etienne de Poncins noted that France had been supporting Ukraine since the first days of the full-scale invasion, and that French experts were the first among foreign partners to arrive in the de-occupied towns of Kyiv region a year ago to help Ukrainian law enforcement. Since then, there has been constant cooperation in this field.
The minister of justice thanked the French partners for the support they continue to provide to Ukraine.
"Another mobile DNA lab is a huge contribution to our joint fight against impunity and to ensuring the rule of international law," he said.