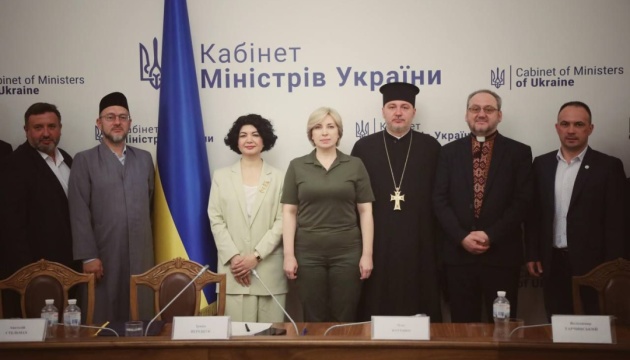 Ukrainian clerics should be ready to deploy in newly liberated territories - Vice PM
Deputy Prime Minister Iryna Vereshchuk offered to prepare a reserve of Ukrainian clergymen to serve in the currently occupied areas of Ukraine after they are liberated.
The Ministry of Reintegration of the Temporarily Occupied Territories reported this on Telegram.
A meeting at the Cabinet of Ministers, dedicated to the spiritual reintegration of the liberated territories of Ukraine, was attended by members of the All-Ukrainian Council of Churches and Religious Organizations.
During the meeting, Vice PM Vereshchuk emphasized that "amid military trials, religious issues are really sensitive and at the same time important for the state."
"After all, now Ukraine is fighting not only for its territories, but also for the hearts and thoughts of people. That is why it is necessary to prepare in advance the clergymen's reserve for serving communities in the liberated territories," the report said.
Regarding the church property in the temporarily occupied territories, which was seized by the invasion forces, the government assured top clerics that it will definitely be returned to the rightful owners after these lands are liberated.
Also, the heads of dioceses were asked to draw up a list of church property that has been damaged or destroyed.
In addition, it was proposed to create a permanent working group consisting of representatives of central authorities and religious organizations. This body should ensure coordination at the level of regional military administrations and the state as a whole in matters of spiritual reintegration of the liberated territories.
As Ukrinform reported earlier, Vereshchuk stated that it would better for the Russian colonizers to voluntarily pull from Crimea before Ukraine starts de-occupying the peninsula.
Photo: minre.gov.ua