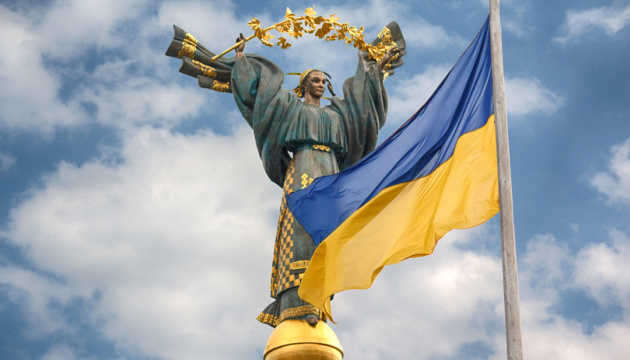 Ukraine marks Independence Day
On Monday, August 24, Ukrainians mark the Independence Day.
Ukraine's Independence Day is celebrated annually on August 24 to honour the adoption of the Act of Declaration of Independence of Ukraine by the Verkhovna Rada of the Ukrainian Soviet Socialist Republic in 1991. The Act is a political and legal document that certified the new status of Ukraine.
Ukraine came a long way to independence. The history of the formation of the Ukrainian state has a thousand-year tradition. It began with the existence of the State of the Antes, the state unification of the Polans tribe, and later the formation of the Kyivan Rus. After the disintegration of the Kyivan Rus, the traditions of statehood passed to the Principality of Galicia–Volhynia. Then the Grand Duchy of Lithuania emerged, in which Kyiv and Volyn lands enjoyed considerable autonomy.
In the 17th century, the Cossack state began to form on the territory of modern Ukraine. The Cossacks fought for Ukraine's independence for more than a hundred years, but they never managed to achieve it. In the 18th century, the Ukrainian people lost their statehood and came to be within the two empires – the Russian Empire and the Austria Empire – for the next two hundred years.
In the 19th - early 20th centuries, the Ukrainian national movement evolved and led to the Ukrainian revolution of 1917-1921 and the revival of Ukrainian statehood. The Central Council of Ukraine was formed and proclaimed with its Third Universal the establishment of the Ukrainian People's Republic. The Fourth Universal declared the independence of the Ukrainian People's Republic. In 1919, the Unification Act was signed by the Ukrainian People's Republic and the West Ukrainian People's Republic and declared the unity of the Ukrainian lands. However, the Ukrainian People's Republic did not last long.
The Ukrainian people lost a chance to have their own state till the end of the 20th century.
After the August coup in Moscow, seeing the danger looming over Ukraine and continuing the millennial tradition of state formation, Ukraine's independence was proclaimed at an extraordinary sitting of the Verkhovna Rada of the Ukrainian Soviet Socialist Republic on August 24, 1991.
This meant that the Ukrainian state had its own indivisible and inviolable territory, in which only the Constitution and the laws of Ukraine have an effect. Ukraine defends and safeguards its statehood, guarantees its citizens the rights and freedoms, independently disposes of its natural resources, conducts its economy, has its own monetary and financial system and currency, pursues foreign policy and establishes equal relations with neighbours, develops science, education, culture.
Ukraine gained the full legal state independence after a national referendum on December 1, 1991, when 90.32% of citizens voted for its independence. By approving the Act of Declaration of Independence of Ukraine on the nationwide referendum, the people brought this document into real force and began a new stage in the development of the history of our state.
ol