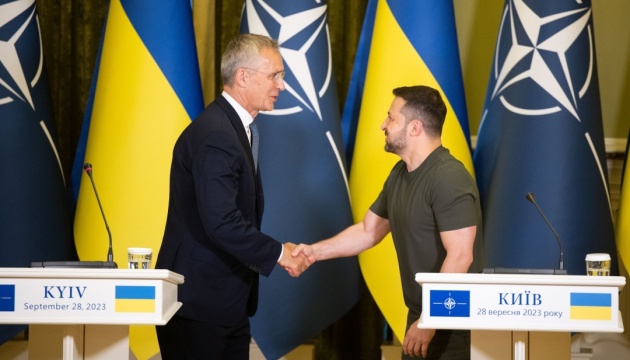 Zelensky meets with Stoltenberg in Kyiv, discusses key defense issues
President Volodymyr Zelensky has discussed key defense issues with NATO Secretary General Jens Stoltenberg and expressed his belief that it is only a matter of time before Ukraine officially becomes a member of the Alliance.
The Ukrainian President said this at a joint press conference with the NATO Secretary General in Kyiv, an Ukrinform correspondent reports.
"I am glad to welcome the NATO Secretary General to Ukraine, I am glad to have a meaningful conversation. Today, this is a conversation between de facto allies, and it is only a matter of time before Ukraine becomes a de jure member of the Alliance. We are doing everything to bring this time closer. Ukraine already defends the common space of freedom that unites all NATO members, and the victory of Ukraine in this unprovoked and criminal war that was unleashed by Russia is guaranteed to ensure long-term security and peace, and not only for our state, but for the entire continent," said Zelensky.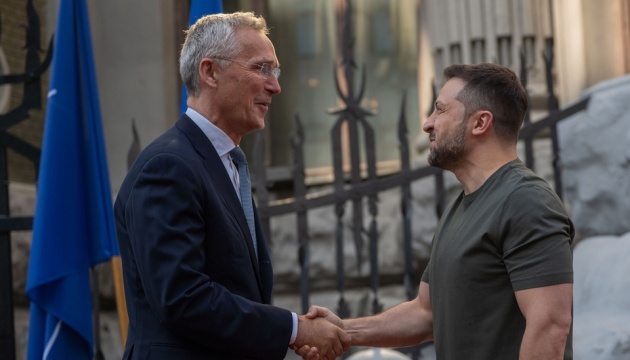 He thanked international partners for their help and emphasized that the results of cooperation with NATO are obvious, including the established "tank", "aircraft" and other coalitions that strengthen Ukrainian defense and are successfully operating.
According to the President, there is also cooperation in various areas - from intelligence to cyber defense. Ukraine successfully uses and improves the tactics of using the Alliance's weapons, the institutions interact effectively.
"Reality itself is proof that Ukraine's membership in the Alliance will be absolutely natural and will strengthen both Ukraine and NATO," the President emphasized.
He noted that he discussed with the NATO Secretary General all the key defense issues, the situation on the battlefield and the needs of the Ukrainian military.
"I am sure that we can continue to put pressure on the aggressor so that Russia only retreats and loses," the Ukrainian president stressed.
As reported, Head of the Mission of Ukraine to NATO, Ambassador Natalia Galibarenko said that the heads of state and government of the NATO countries at the Vilnius summit determined the political and practical conditions for Ukraine's membership in the Alliance, which include the continuation of reforms to achieve NATO standards, as well as the end of the war.