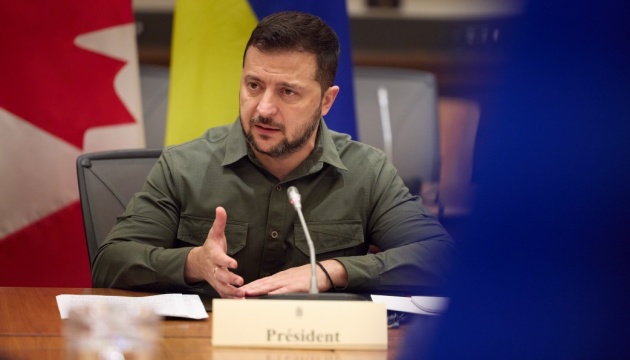 Zelensky calls on world to fight Russian disinformation
Russian Federation heavily invests in powerful disinformation campaigns in order to divide the unity of the civilized world in the matter of supporting Ukraine.
Volodymyr Zelensky addressed the issue at a joint press conference with Canadian Prime Minister Justin Trudeau, answering questions from an Ukrinform correspondent.
"As for aid to Ukraine, we work with all countries. I understand that Russia works absolutely everywhere through disinformation and its narratives – they target the general public, separately – politicians, state institutions, various parties, etc. They run powerful operations, investing billions to divide Europe, divide the USA, divide the world," the president emphasized.
According to Zelensky, it is very difficult to fight against such campaigns, therefore he called on journalists, to contribute to leveling Russia's malign influence and prevent the split in the civilized world's unity.
"We cannot allow Russia to divide opinion around the world. If there is a division of opinion, a division of the powerful bloc that we managed to create at the outset of the war, there may be no more help for Ukraine, and that is a fact," the head of state said.
As reported, the Ukrainian delegation headed by President Volodymyr Zelensky arrived on a visit to Canada immediately after the U.S. tour.
Photo: Ukrainian President's Office