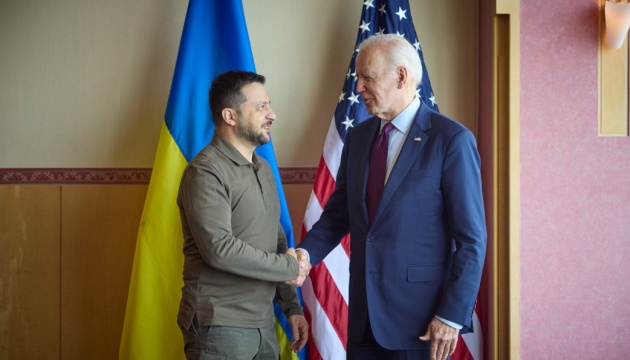 Biden wants to hear from Zelensky his own assessment of battlefield developments - White House
U.S. President Joe Biden is looking forward to meeting with Ukrainian counterpart Volodymyr Zelensky at the White House to hear from him personally about the developments in Ukraine, in particular, about the progress in the ongoing counteroffensive.
This was reported by the White House National Security Coordinator, John Kirby, who spoke at a briefing in New York, Ukrinform's own correspondent reports.
"The President's looking forward to hearing from President Zelensky about their counteroffensive and about the progress they're making, sort of his assessment of what the battlefield looks like," Kirby said.
Also, Biden wants to assure Zelensky that when the U.S. says that it will stay with Ukraine for as long as it takes, the Ukrainians should understand that the support will continue, the spokesperson added.
Kirby emphasized that the meeting at the White House will take place at a "critical time." He recalled that the Armed Forces continue to achieve success in their counteroffensive while Russia appeals to rogue regimes like North Korea as the international community continues to gather in support of Ukraine, in particular in the Ramstein format.
The White House official confirmed that the president of Ukraine plans to visit the U.S. Congress during his visit to Washington. "It's important for members of Congress to hear directly from President Zelenskyy about all the same things that President Biden will hear from him," said Kirby.
He also emphasized that the Ukrainian leader has always – both publicly and privately – expressed his gratitude for everything the United States does to support the Armed Forces of Ukraine.
As Ukrinform reported earlier, Volodymyr Zelensky kicked off his U.S. visit on Monday. In particular, he will take part in the work of the 78th session of the UN General Assembly, speak at the Security Council and hold meetings with foreign leaders. On September 21, Zelensky will pay a visit to Washington.
Photo: President's Office