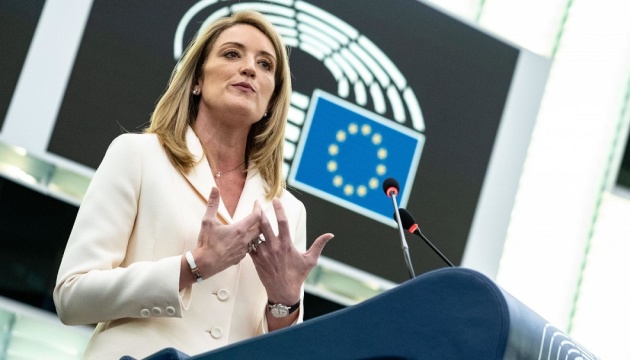 EU to continue backing Ukraine despite drone attacks on Moscow - Metsola
European Parliament President Roberta Metsola said Wednesday that the EU stands resolutely behind Ukraine amid Moscow's allegations that Kyiv is responsible for drone attacks on the Russian capital.
That's according to the top lawmaker's interview with DW, Ukrinform reports.
"This is not a conflict between two countries. This is one country invading another and taking part of its territory," Metsola told DW on Wednesday.
Asked how comfortable she is with the idea that EU weapons could potentially be used by Ukraine to strike targets in Russia, Metsola said Russia was the one that has invaded the Ukrainian territory.
"I think anybody making this argument is forgetting the fact that Russia invaded Ukraine," politician said.
After Russian officials accused Ukraine of carrying out dozens of drone strikes that wounded two people, Metsola emphasized the European Union's resolve to stand with Kyiv no matter what.
"Until Russia leaves Ukraine, we are not going to stop supporting Ukraine," she said.
Asked whether the EU public had been sufficiently consulted on the initiative to boost security spending in the EU, Metsola said the move is justified. "What we're talking about is helping a country that is fighting for our fundamental values and freedoms," she said, referring to Ukraine.
Earlier this month, the European Commission unveiled a plan to ramp up EU bullet production to 1 million rounds within the next year to supply Kyiv, part of a wider to push to increase member state defense spending. The initiative foresees the use of up to EUR 500 million ($530 million) of EU public money.
As reported earlier, in the early hours of Tuesday, May 30, approximately 25 drones attacked Moscow.